Famed multi-millionaire and railroad magnate George W. Vanderbilt put Asheville, N.C., on the map, but today it is a distinctive bohemian and free spirit vibe that oozes through the town. Home to notable luminaries, statesmen and bohemians, this arty colony has risen to be one of the vibrant cities in America. A mixture of rich architectural legacy, locally owned shops, art galleries, a burgeoning farm-to-table movement and an influx of new residents has created a unique melting pot of history, culture and exploration.
The fresh mountain air of the Blue Ridge Mountains welcomes tourists and explorers alike to Asheville in search of healthy alternatives. Wellness offerings are aplenty in the largest city in Western North Carolina, starting with one of the top spas in the world located in the historic Omni Grove Park Inn. Through its large double doors, this Asheville escape welcomes guests with a tradition of Southern hospitality amidst history around every corner and a stunning backdrop. With a wall honoring leading statesmen, dignitaries, celebrities, athletes and more who have all stayed at the resort, there is history strewn throughout the resort from the multitude of artifacts and pictures to the original old 'hidden' elevator. While the accommodations, dining and amenities are top-notch, the resort is best known for its subterranean spa.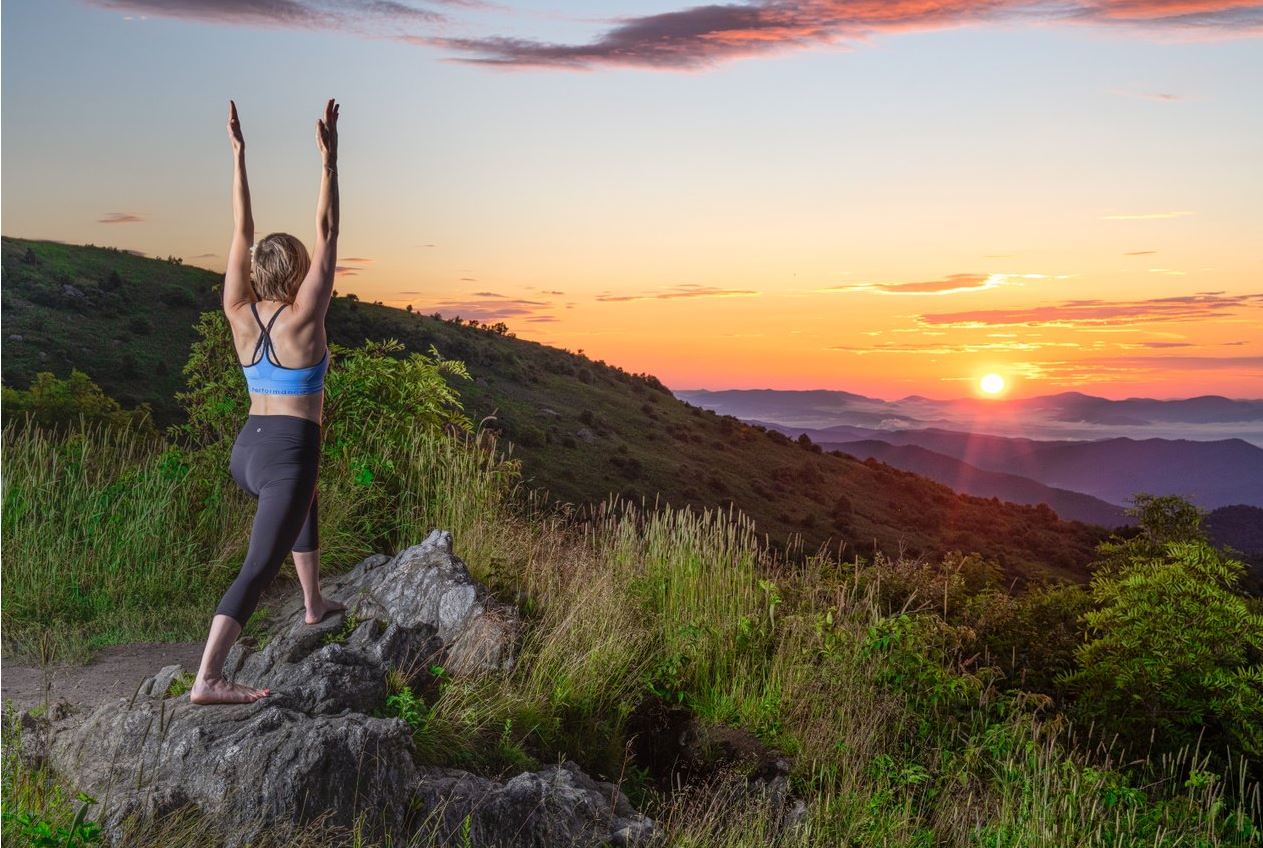 Escape to nirvana at The Spa at The Omni Grove Park Inn, a 43,000 square foot underground oasis unlike any other. Guests are welcomed into the spa alongside cavernous rock walls, arches and tunnels evoking a serene environment inviting all to loosen up. Along with a café, men's and women's locker rooms and facilities and treatment rooms, the spa features numerous water features. From their two mineral pools, with their soothing underwater music and skylight above, to the nearby waterfall pool or outdoor whirlpool, water plays a key element in the spa's wellness treatments. Book one of their bespoke experiences and choose to elevate your massage experience with a multisensory treatment pod to truly bask in the experience and ensure a relaxing stay.
Take advantage of the abundant and luscious outdoors with Namaste in Nature which offers public and private yoga hikes with hiking and meditation at the best waterfalls and mountain views in Western North Carolina.Miranda Peterson, CEO & Founder of Namaste in Nature, shares her own journey of healing, growth, peace, insight and pure joy through yoga, meditation and nature with one of the many hikes she or one of her guides leads. Every Friday, Namaste in Nature invites those of all levels of fitness for a fun and friendly outdoor adventure to connect with nature and work towards greater health and happiness through mindfulness and movement.
From their two-mile Beautiful Blue Ridge Parkway Yoga Hiking Tour to their four-mile Epic Multi Waterfall Yoga Hiking Tour and everything in between, this uniquely Asheville experience is a combination of fitness, connectivity and fun and ensures that each participant will leave feeling with a sense of fulfilled bliss. Their commitment to the sustainability of nature and preservation of our planet goes even farther as with every hike, a percentage of the proceeds go towards planting trees.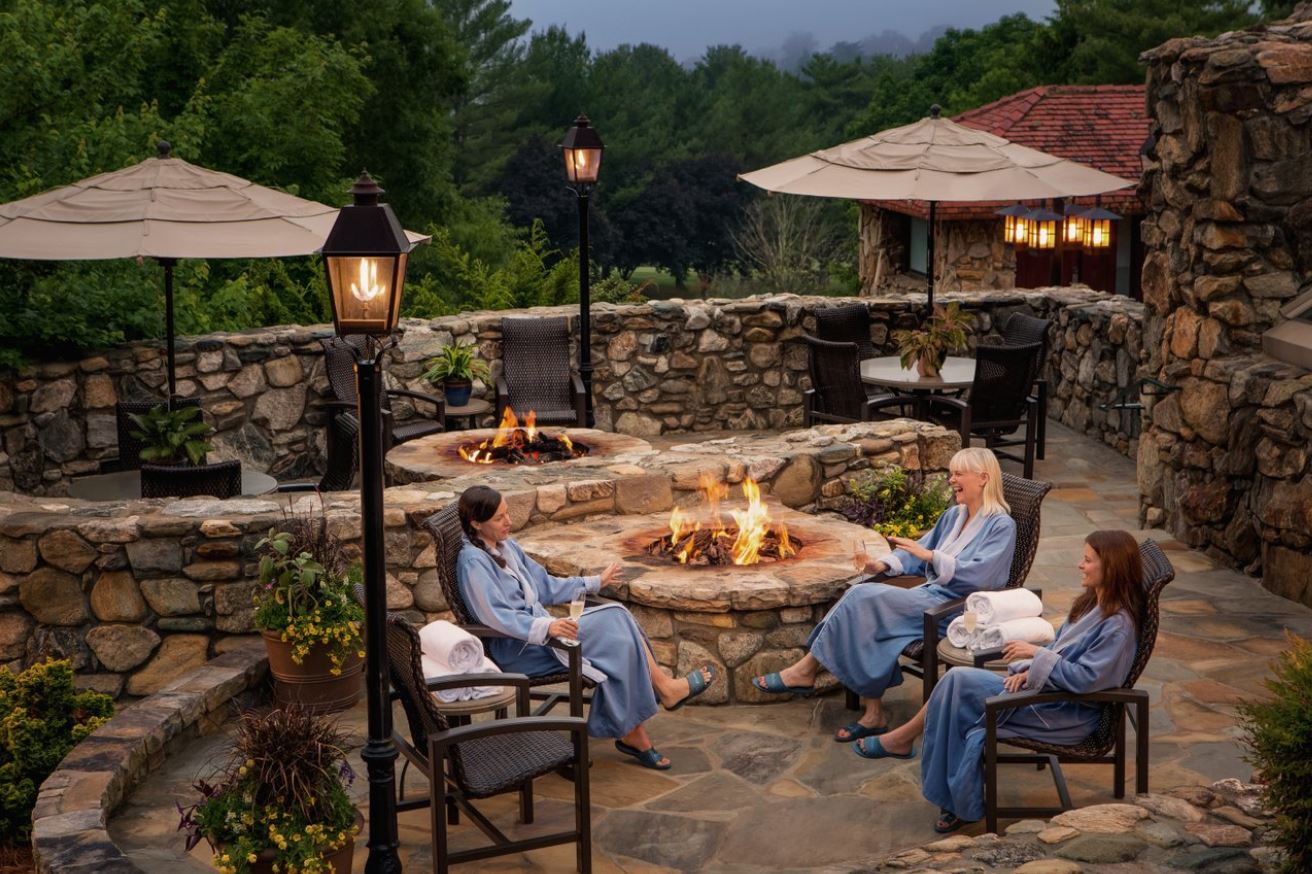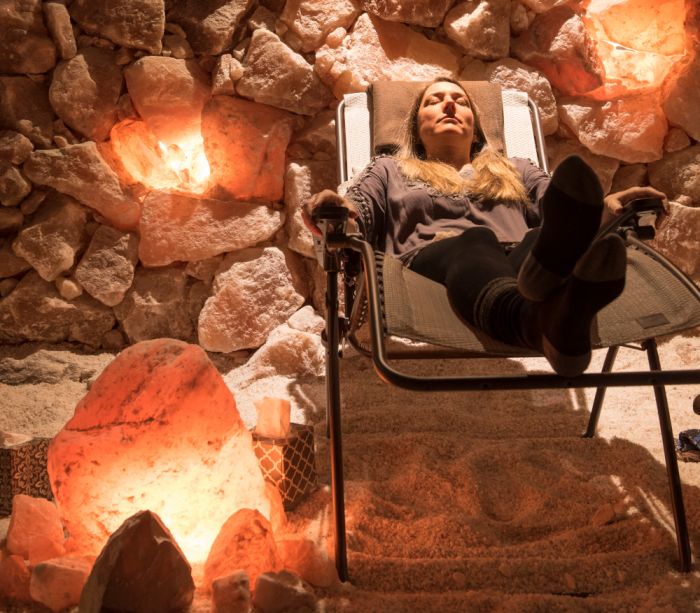 (credit: ExploreAsheville.com)
After a long morning outdoors, it's time to restore your body and heal your soul. Just outside of downtown, Asheville Salt Cave opened a 5,000 sq. ft. facility with two new salt caves and newly designed massage studios. Available for community sessions, private sessions, couple massage therapies, Yoga Nidra and even a sound healing concert, they have naturally recreated the microclimate of a salt mine with 20 tons of pure pink salt. Sourcing from all corners of the earth – from deep in the Polish salt mines, to the Dead Sea, to the Himalayan Mountains, to the Celtic Sea – the soothing environment invites guests to drift off into your own meditation while ambient music is infused in the space.
Whether relaxing in a zero-gravity chair or comfy pillows and blankets on the salt floor, don't be surprised if you dose off in sheer calmness. They also recently opened their Hamman Bathhouse which is a new experience in their steam room aimed to detoxify and exfoliate the skin while restoring the body and the mind. Following one of the options at the Salt Cave, head to Wake Foot Sanctuary, Sole Haven, or De La Terre for a luxurious foot soak or foot reflexology appointments.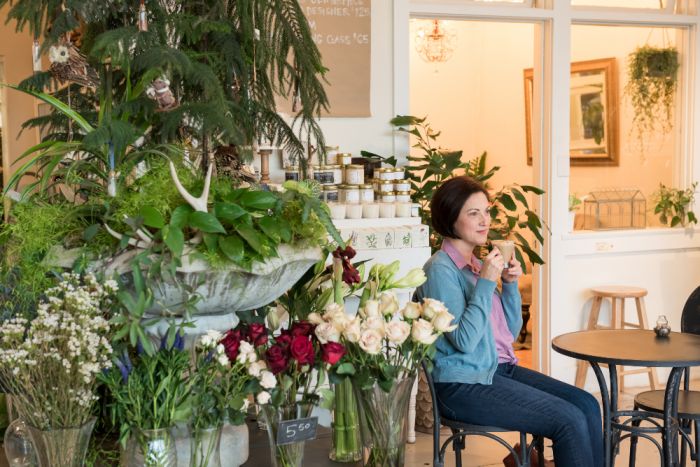 (credit: ExploreAsheville.com)
While beer is a big deal in Asheville, the other craft brew, tea, is having a moment in the city. At Spa Theology, combine the ultimate spa experience with a tea-steeped face and body mask while Dobra Tea offers tea classes and tastings at their multiple tearooms across Asheville. Sourcing local Appalachian ingredients – uses yaupon, North America's only native tea plant and the only edible caffeinated plant indigenous to the Southeast – Asheville Tea Company offers tea blends, flights and tastings bringing farm-to-teacup brews. Then there is Hunter Strickland at High Climate Tea, who takes his past experiences under the notorious Uncle Gee and Ming Duong at Vital Tea Leaf in San Francisco's Chinatown, to educate guests about tasting notes and the provenance of his hand-picked leaves with excitement that is unparallel.
Offering a variety of the freshest traditional Chinese teas, sourced directly from traditional farmers and producers who live throughout China and Taiwan, Strickland presents them at his tasting room or dining area. Every year, Strickland and his team travel through China searching for the freshest, most impressive teas from each harvest, bringing only high-quality and uniquely tasting teas back to High Climate Tea. By finding the purest tea leaves, Strickland gives his customers excellent naturally grown tea and an abundance of stories and knowledge, acting as a lexicon of information and sharing the health benefits of tea.
Last but certainly not least, it is now time to feed your soul. With new juice bars farm-to-table restaurants popping up all around the city, Asheville makes sure that no one leaves with a grumbling belly. From Elements Juice Bar to Nourish & Flourish in the River Arts District to Green Sage Café, with multiple locations around town, guests are welcomed to produce sourced from local farms and an abundance of house-made items. Two restaurants that are a must-visit while in town are Plant and Sovereign Remedies.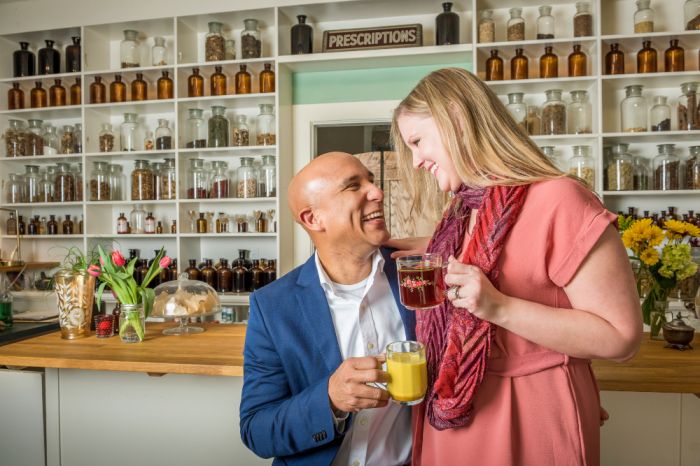 (credit: ExploreAsheville.com)
Plant is an all-vegan restaurant on Merrimon Ave. just north of the 240 highway brought to the area by Jason Sellers, Leslie Armstrong, and Alan Berger in the summer of 2001. Through its chef-driven ever-evolving plant-based menu, Plant has become both a local favorite and has garnered attention nationally for its bold dishes. Diners sitting at one of their 13 tables or kitchen-side dining get to witness the chefs craft these colorful and imaginative dishes due to their open dishes, smelling the freshness of ingredients, smacking their lips before food even reaches their plate. They are proud to be 90% organic, using often local, and mostly gluten-free ingredients and making almost everything from scratch.
Sovereign Remedies has become a hotspot in downtown Asheville since opening in 2014. The vintage-inspired space with visual treasures and locally built furniture and fixtures by Iron Maiden Studios creates a hip vibe that diners have grown to love. With 14-foot high windows, which fill the room with natural light during the day while soft lights and candles create an inviting glow for guests and those walking on market Street at night, there is also ample plants creating a special environment. Inspired by the great history of the Appalachian Mountains, the concept of Sovereign Remedies is enthused into the ethos of the restaurant. This rugged terrain made it tough to access medicine, so each family created their own "Sovereign Remedy" to help stave off any sickness or infection of the time. This comes full circle at the restaurant as they bring the local bounty of the Appalachian region to their dining and drinks menu, crafting local, organic and supremely flavorful dishes from their exceptional culinary program.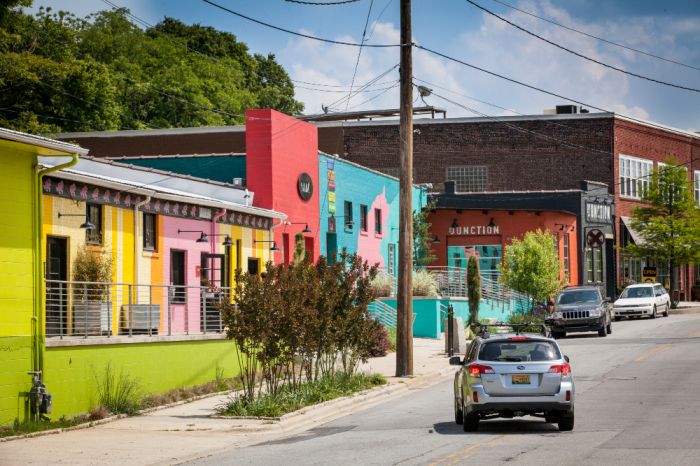 (credit: ExploreAsheville.com)
While Asheville may be having its moment as a wellness destination, in fact, it has been a wellness destination that goes back to the 1700s. Its crisp mountain air and cool streams have warmly embraced weary travelers and those seeking healing and relaxation for centuries and continue to do so to this day. Surrounded by more than 800,000 acres of lush wilderness it has become a haven for yogis and yoginis and a must-go for active vacationers in search of bucket-list adventures and inspiring retreats.
With the recent surge of Covid-19 dissuading people from traveling, businesses in Asheville are committed to following the North Carolina Face Mask Requirement for Businesses which is supportive of a state-wide rule requiring the use of masks both indoors and outdoors, including on sidewalks, where six feet of distance can't be maintained. Furthermore, Asheville instituted its Cares Stay Safe Pledge where Asheville-area hotels, attractions and businesses have stepped up to protect workers and guests with safety measures that go beyond state guidelines, including a shared commitment with travelers to keep everyone safe with extra precautions.