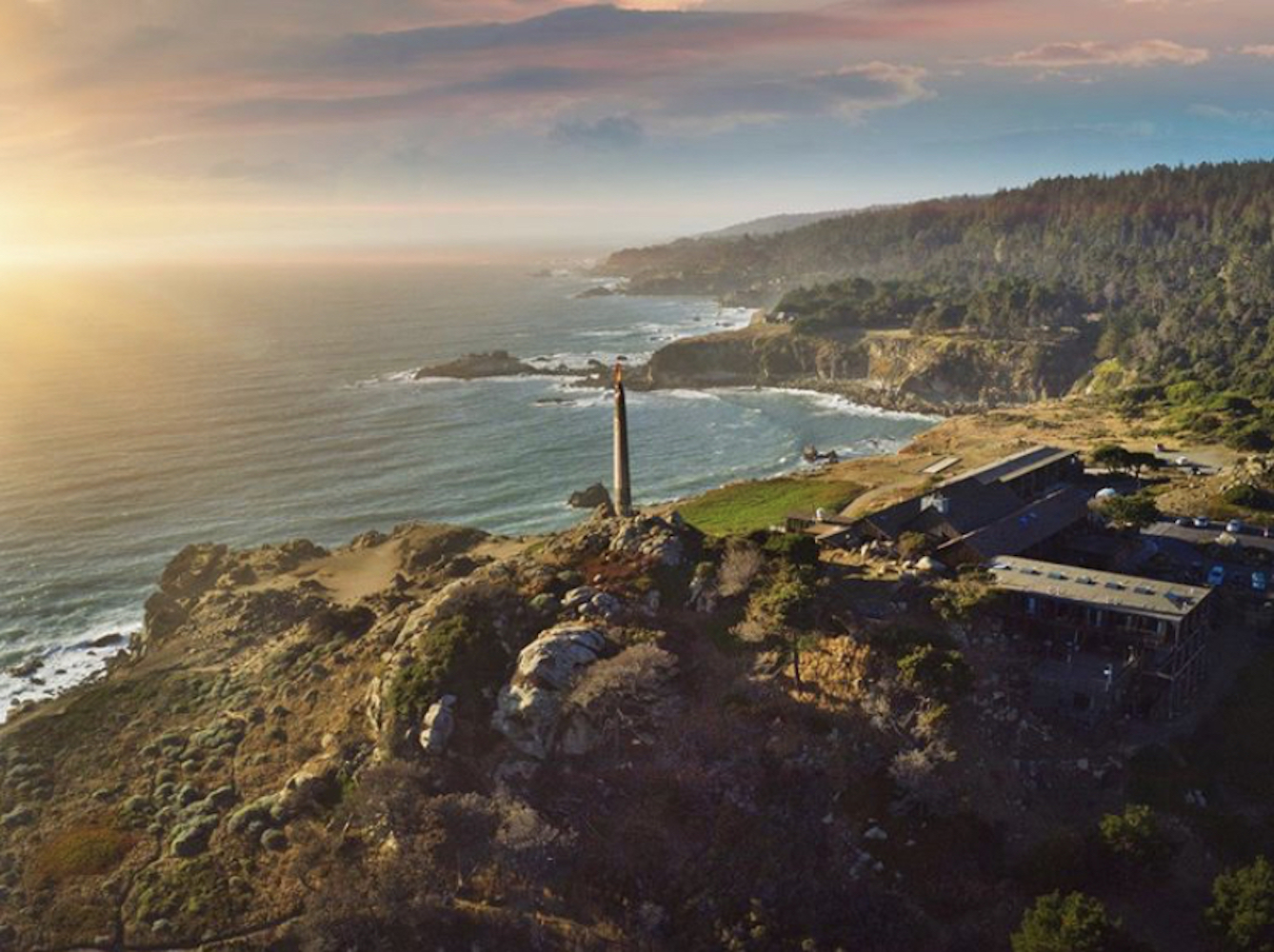 Artist Benjamino Bufano's famed 93-foot tall obelisk heralds your arrival at Timber Cove, the retro resort situated high atop the Sonoma coastline just beyond the town of Jenner-by-the-Sea. Titled 'The Expanding Universe' and completed in 1969, the concrete and mosaic sculpture, decorated with doves, Madonna and child, and an open hand atop, is a celebrated symbol of peace and harmony, and your perfect welcome to this serene and chic seaside retreat. 
Timber Cove has long been known as a rustic refuge at which to refuel, relax, and reconnect. A hip renovation several years ago by architectural firm Gensler and Los Angeles-based designers Robert and Cortney Novogratz have added modern polish without forsaking the inn's former bohemian vibe. 'Legacy' guests – those who have been visiting since the 1960's – can still recognize the inn's free-spirited character, but luxe indulgences now place Timber Cove in a wholly different hotel category.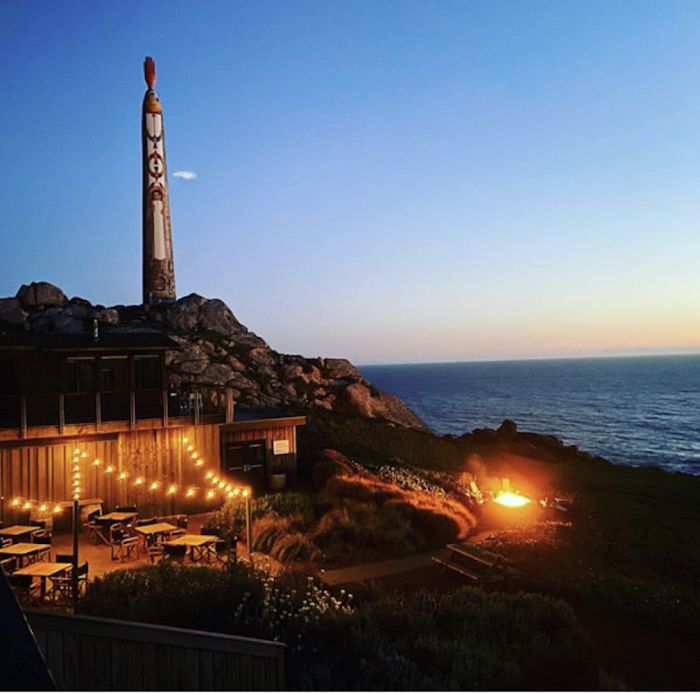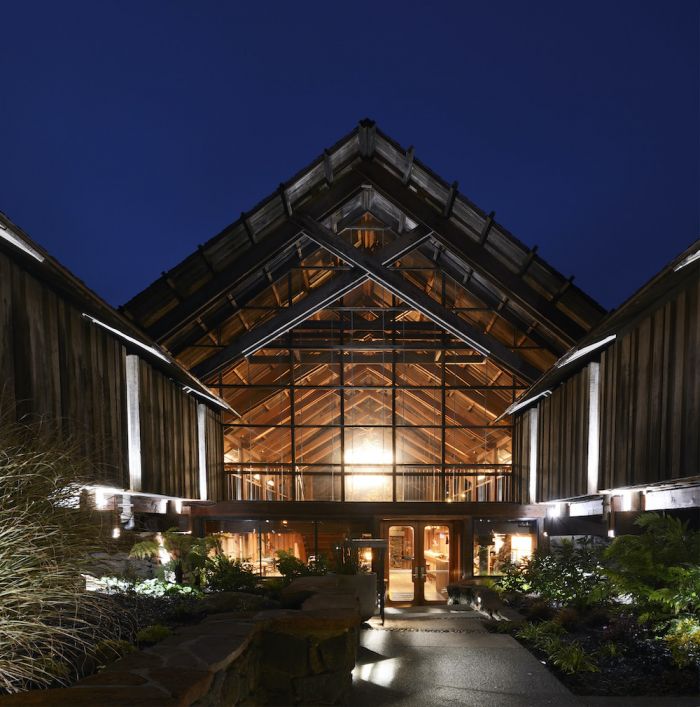 Nearly all of the 46 rooms and suites have expansive decks overlooking the adjacent cove or ocean – offering perfect vantage points from which to view spectacular sunsets. Each room features a throw-back LP player (an extensive LP lending library can be found in the lobby), cozy robes, modern fireplaces, Nest heating/cooling systems, and Russian River Roasters coffee. Comfy beds feature sumptuous linens, down comforters, and Pendleton throw blankets. Original pieces from established artists such as Jimmy Mezei, Jeff Canham, and Emily Nathan grace the walls.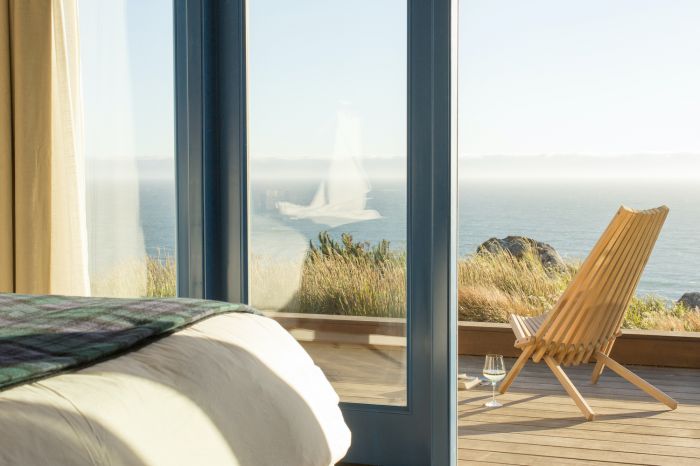 Common areas feature redwood and stones preserved from the resort's former life. The expansive Great Room retains its floor to ceiling stone fireplace and welcomes visitors with a visually stunning entryway inspired by classic 1960 Frank Lloyd Wright architecture. Modern and retro furnishings feature tribal textiles, white fabrics, worn leather, and preppy plaids. An Outdoor Living Room which normally offers porch swings, billiards, ping-pong, and one of two on-property fire pits currently serves as the resort's dining room.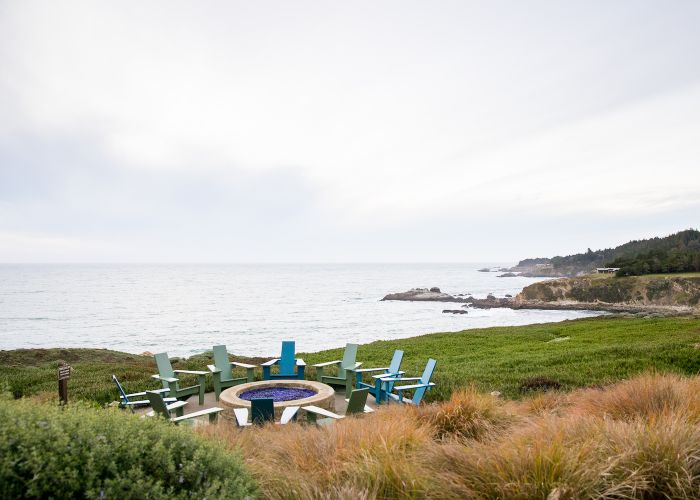 Situated on 23 acres, the property begs to be explored, and the best and most entertaining way to do so is to follow Sophie von Gierke's 'Treasure Hunt.' (Ask for it when you check-in.) The daughter of co-owner Jens von Gierke (Michael Barry is the other owner), Sophie directs guests to 19 interactive vantage points. Examples: #5 – Sit on the green bench and name three things you see. #7 – How wide is the base of the biggest Eucalyptus tree in the grove? #10 – How many faces do you see on Bufano's obelisk? Sophie winds you through the property, past the events lawn, the bocce ball court, and Cupid's Wall.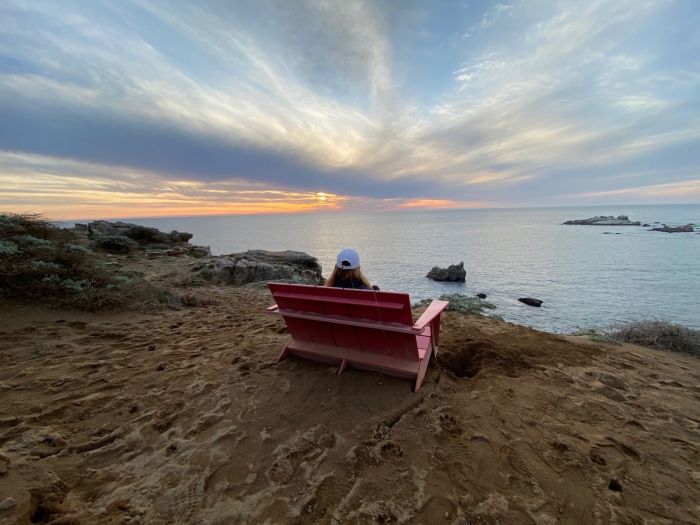 Photo: Dan Miller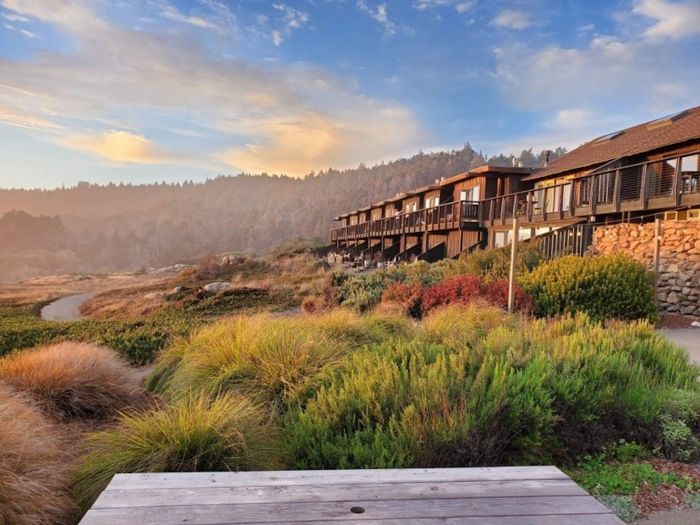 Timber Cove was originally constructed in 1963 by famed architect and original owner Richard Clements Jr. (a fourth generation San Franciscan and developer of many of the City's public monuments) who was inspired by Frank Lloyd Wright's organic architectural style. Clements sought to design a dramatic A-Frame structure that blended into the natural surroundings, creating a timeless experience; he would no doubt be pleased to see that his original vision continues to be honored.
Photos courtesy of Timber Cove unless otherwise noted.