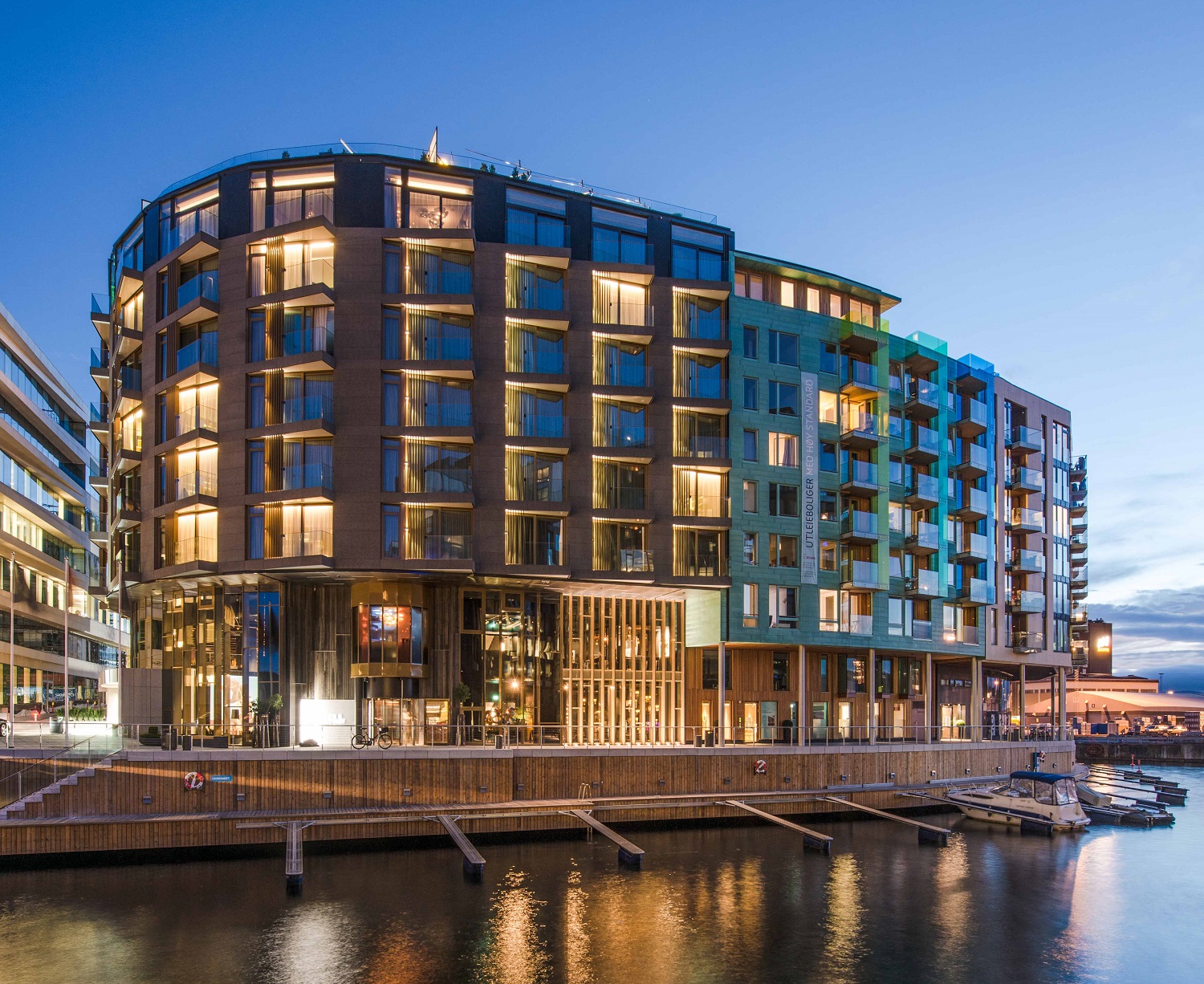 Photos Credit: The Thief Hotel
If you haven't been to Norway yet, put it on your must-do list for this year. The country is full of natural beauty with stunning fjords, crystal glacier lakes, charming coastal villages and endless cultural experiences. Your visit to Norway must include Oslo, the nation's capital and a cosmopolitan waterfront city. Oslo is known for its endless cultural pursuits and as a city with a serious art fetish. Oslo's most recent and ambitious project is the Tjuvholmen, a former dilapidated island a few minutes stroll from the city center. This area has been transformed into a collection of posh malls, waterfront eateries and high-end apartments, crossed by canals and a marina filled with sleek boats. There is one hotel in the development and it is as impressive as its posh neighbors. It is The Thief, an avant-garde and uber sexy hotel created for today's turned-on traveler.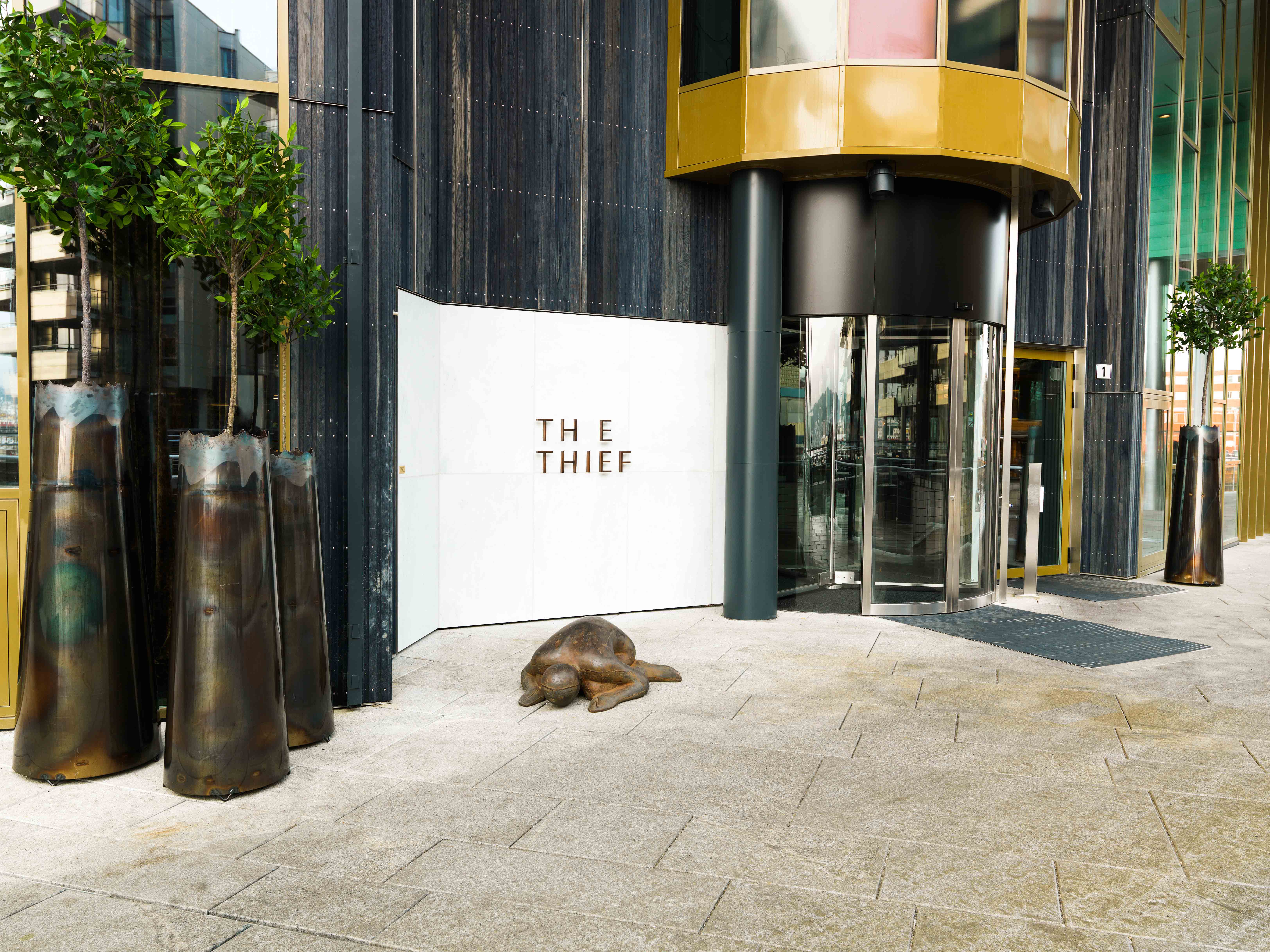 As you enter The Thief there is a riveting statue of a person bowing with its head to the ground in a subservient position; it's your first indication that there's something different going on there. So if you are expecting a normal hotel, prepare to be gob-smacked. Once inside, the objects d'art continue to startle, draw out emotion and steal your attention for the moment. In one space there is a 15-foot painting on of a cowboy on a bucking horse, and in another, there is a bright and colorful abstract sculpture; in the elevators, animated digital artwork plays on video monitors. This is no accident, the art that you'll see throughout the hotel features hand-picked collections of contemporary art curated by Sune Nordgren who previously helmed Norway's National Museum of Art.
But that is just the artwork. Throughout the hotel the experiences are memorable—from the staff which is more cool than corporate to all of the services to be had during your stay, including dining, accommodation, and a spa experience that are as evocative as the artwork that has spellbound you.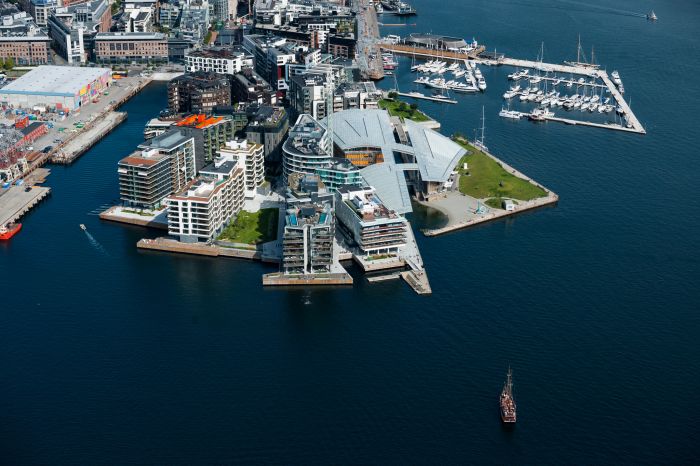 The namesake of the Thief is Tjuvholmen or Thief Islet which was once the place to lay low for Scandinavian thieves, smugglers and scoundrels. Fast forward 200 years and where the brothels and shanty town once stood is now Oslo's most trendy urban waterfront neighborhood. Tony designer boutiques and waters-edge bistros line the pedestrian walking streets and the wharf. It really is the place to be in Oslo and it's within walking distance from the town center.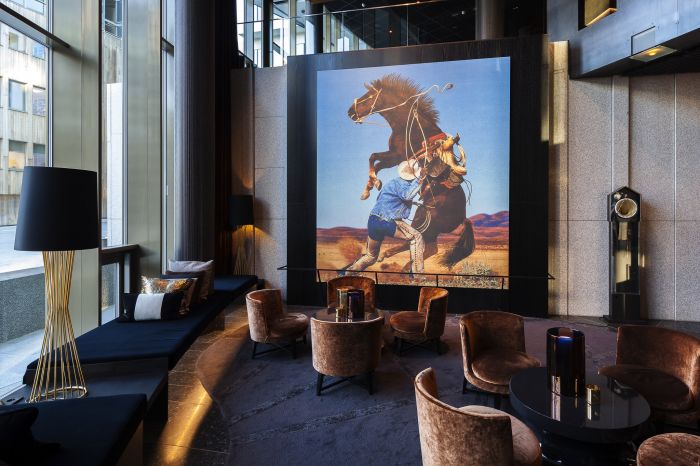 Each of the hotel's 116 rooms features works by some of Norway's most celebrated contemporary artist so expect to spend some extra room time looking at the objects d'art, whimsical sculptures and edgy photography. The furnishings compete for equal attention where Norway's top interior designers selected the furniture, rugs and other soft goods.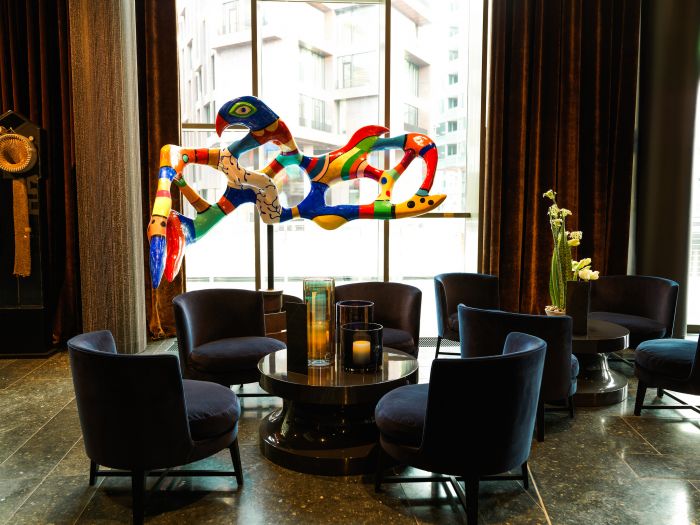 Expect every modern convenience in the room from interactive televisions and down-duvet bedding, to Nespresso machines. The junior suite feature bathrooms made for languishing with separate bath and rainfall shower, Vittorio Marble floors and local designer amenities. The rooms feature a balcony, many of which overlook the Oslo Fjord and Canals of Tjovholem.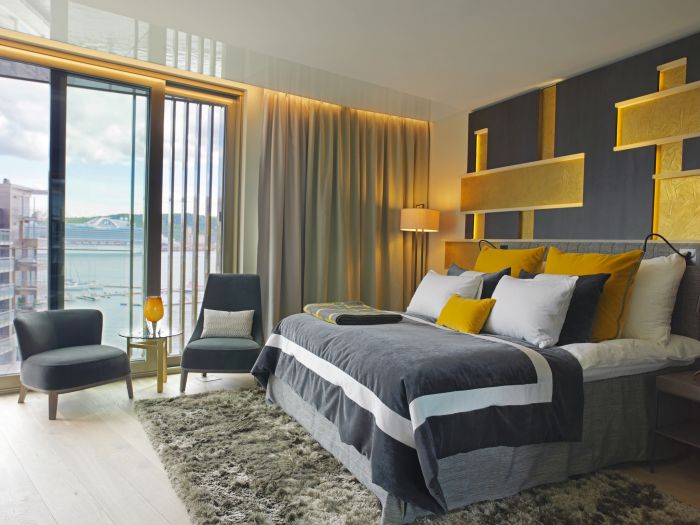 The Oslo Suite is The Thief's largest suite and is more like a penthouse apartment on 5th Avenue; it's where many of Oslo's biggest celebs visitors stay when in town. The suite is 1,012 square feet with a dining room, a living room with fireplace and a separate bedroom. The curated collection of artwork features original pieces by Sir Peter Black which are as striking as the views of the Oslofjord from the private rooftop terrace.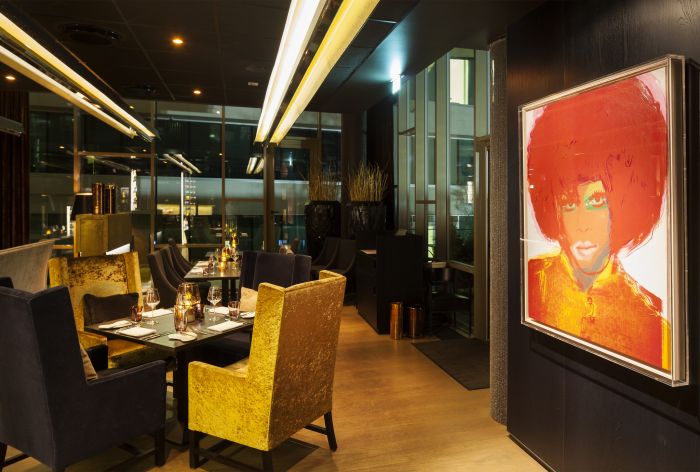 The Foodbar is the main dining restaurant with a chic décor indicative of the hotel. There are long tables where groups of friends gather as well as more cozy areas with couples out on a hot date. Dishes are prepared by Executive Chef David Taylor, whose ethos is conscious cooking and using sustainable and organic ingredients sourced from local farmers and fisherman. Each menu item has Scandinavia's wild and pure flavors as the centerpiece. If in-season do try the roasted duck, cep cream, king oyster mushroom and pine; or the turbot with pickled celeriac, watercress and horseradish.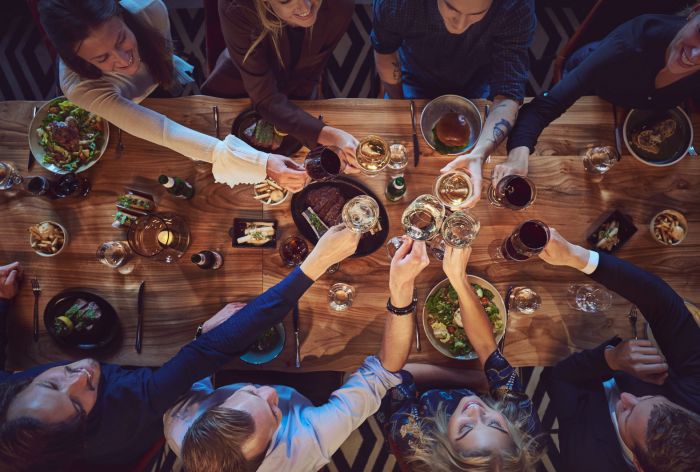 On the rooftop garden terrace, guests dine while taking in the sweeping views of the harbor and cityscape as well as the fjords just beyond. During the warmer months, this is the place to be for some day-drinking with cocktails and nibbles during the hotel's Thief Music Unplugged events which featuring local DJ's, musical groups and acoustic music sets.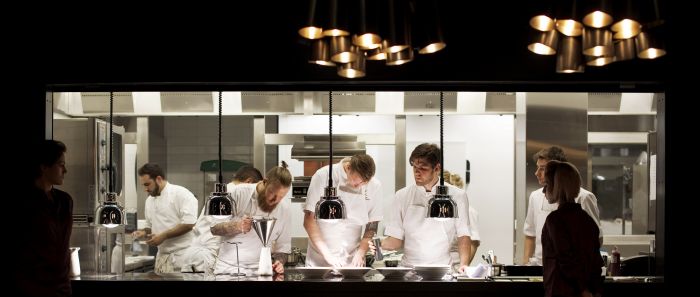 That's not the only place to bend the elbow at the hotel. Off the lobby and hotel entrance is the Thief Bar where you'll find a hodgepodge of corporate men hanging out with tatted-up artsy types and a bevy of local beauties. They've all dropped in for some serious cocktail culture.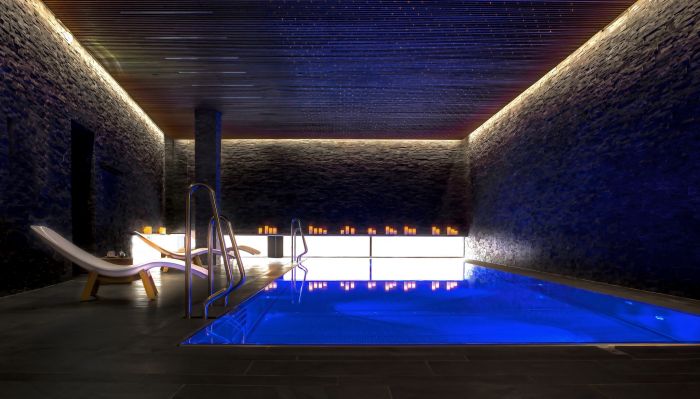 For some maximum relaxation time head to the Thief Spa which is a true destination spa and one of the tops in the country. It is the largest in Oslo and offers a contemporary design, neon light elements and rustic stone surfaces. The 8,611-square-foot spa features a full array of wellness rituals and services, a sauna, a Hammam and six treatment rooms. The spa also features a state-of-the-art gym and a large, temperature-controlled, indoor pool.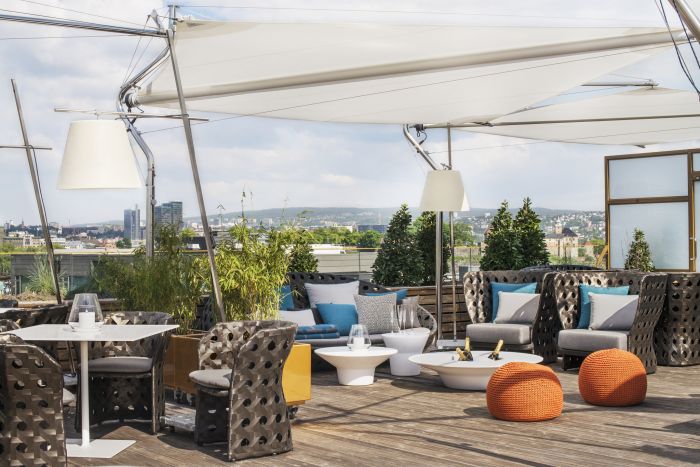 With The Thief as your base during your stay in Oslo, you'll want to explore the city's art scene. This is a city of incredible outdoor art with realistic statues on virtually every block. A few steps from the hotel is Astrup Fearnley Museum of Contemporary Art. The Thief is a major supporter of the museum, and as such, your stay at The Thief includes complimentary access to the museum. Another must-have experience is a few hours at Tjuvholmen Sculpture Park. Here you'll see the works of Norway's contemporary artists and hundreds of their freakish sculptures of naked people in a range of interactions. Some will shock, some will be admired as these creatures display everything from violence to nurturing. It's really captivating and one of Norway's top tourist attraction.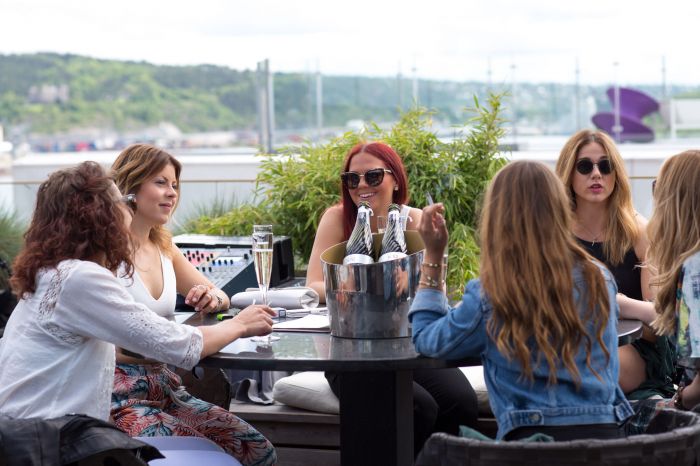 The Thief is an ambitious hotel that was created to go beyond the blasé hotel experience. It has shattered the mold with an accommodation experience filled with cutting-edge artwork, a world-class culinary experience and a destination spa in a setting of the Oslo waterfront and the Norwegian fjords. Do be warned, after a stay you'll find this is a unique hotel without compare.