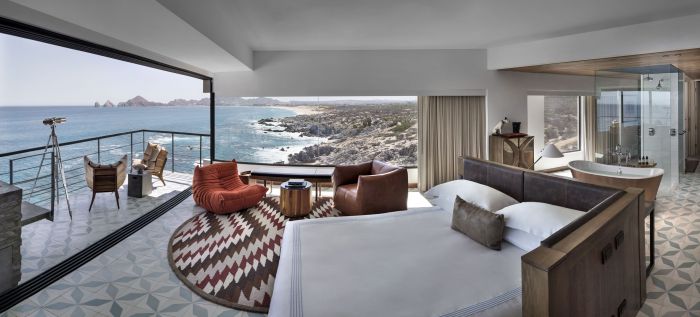 Image Courtesy of The Cape, A Thompson Hotel
A longtime favorite destination of the American jet-set, The Cape, a Thompson Hotelin Cabos San Lucas has reemerged as a top holiday destination for travelers from all corners of the world looking for a sweet escape. The resort's newly implemented safety precautions, lively pool scene, award-winning restaurants, postcard-perfect seaside location, and contemporary take on the quintessential Mexico getaway, are just a few of the reasons why The Cape has become one of Cabo's crown jewels.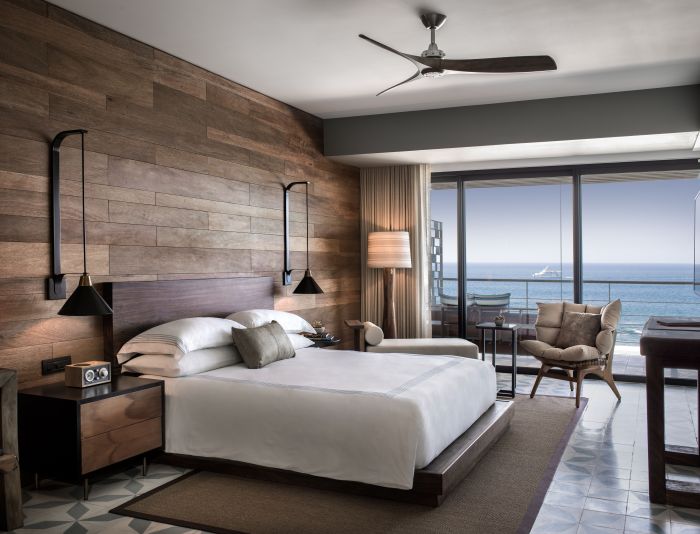 Image Courtesy of The Cape, A Thompson Hotel
While other resorts in the region have typically skewed towards the more traditional Mexican aesthetic, The Cape is a bastion of futuristic modernity with its sleek and industrial architecture, open-air gathering spaces, cantilevered lines, and lava-hued walls punctuated with bold pops of bright color. The boutique property from Hyatt's Thompson Hotels, has an inescapable aura of cool that rubs off on all who enter. With majestic views of the famed El Arco and the Bahía San Lucas horizon from every vantage point, The Cape is the perfect place to breathe deep and unwind. 
The Cape's rooms and suites are reminiscent of private surf bungalows, designed for the most indulgent kind of escapism. The open-space concept is enhanced by exquisite design elements that include freestanding copper-leafed bathtubs, glass walls, exotic hardwoods, colorful textiles, high ceilings and spacious balconies that come fully equipped with swinging day beds and 180º views of the sea. All of which come together to create the perfect backdrop for relaxation, and a uniquely special place to enjoy a bottle of signature tequila — which guests can expect to receive as a welcome amenity, accompanied by handmade tamarind-flavored sweets and chili-spiced Sal de Gusano (aka "worm salt," a smoky salt made from the gusano worm). If you can manage to pull yourself away from the comforts of your room, the hotel's rooftop lounge (the only one of its kind in Cabo San Lucas) is the perfect place to grab a sunset cocktail and enjoy the crisp ocean breeze around the fire pit.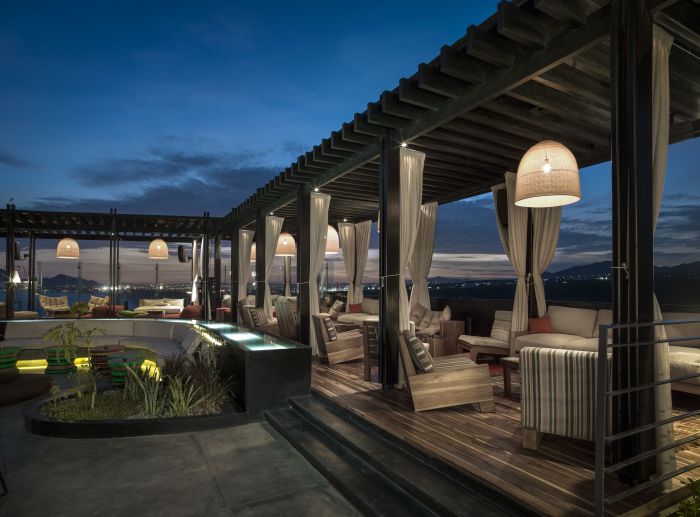 Image Courtesy of The Cape, A Thompson Hotel
In a new era of luxury travel, The Cape experience strikes the perfect balance of laid-back and structured, with a number of safety protocols and implementations designed to ensure guest safety in every way possible. As travelers contend with the realities of COVID-19, guests of The Cape can rest assured that their health and safety have been considered at every stage of their stay from the time of arrival to the day of departure. In collaboration with Hyatt and BlueNet Hospitals, The Cape has developed a fully integrated system of safety and sanitization measures that meet federal and global health guidelines, all of which are supervised by a dedicated leader from the resort's safety team. Additionally, The Cape is also participating in the Punto Limpio program which translates as "Clean Spot." This is Mexico's federal hygienic safety certification that effectively secures the safety of both hotel guests and staff to make sure that the environment is comfortable and safe for everyone.
Image Courtesy of The Cape, A Thompson Hotel
Safety procedures begin from the moment of arrival in Los Cabos. SJD International Airport has implemented some of the world's most advanced and stringent safety protocols — including thermal cameras and travel background checks on all travelers. Guests should take advantage of The Cape's in-house airport transfer service. All vehicles are disinfected between every use and luggage is thoroughly disinfected before placement in the vehicle, and then once again upon arrival to the hotel using non-damaging, but effective sanitization products.
Upon arrival to The Cape, guests will find state-of-the-art technology such as electrostatic sprayers, UVC light and disinfection points at the hotel's entrance and during check-in. Elevated and rigorous daily cleaning procedures are in place for all guest rooms and common touchpoints, including sanitizing and disinfecting stations. Guests are also provided with specialized care kits, including face masks, disinfectant wipes, and hand sanitizer. Social distancing has been implemented throughout the property, from spacing of restaurant tables, to the contact-less check-in process. Additionally, guest rooms are assigned to allow maximum distance between guests. There is also a lapse of 24 to 48 hours between room assignments to allow a more thorough sanitation process.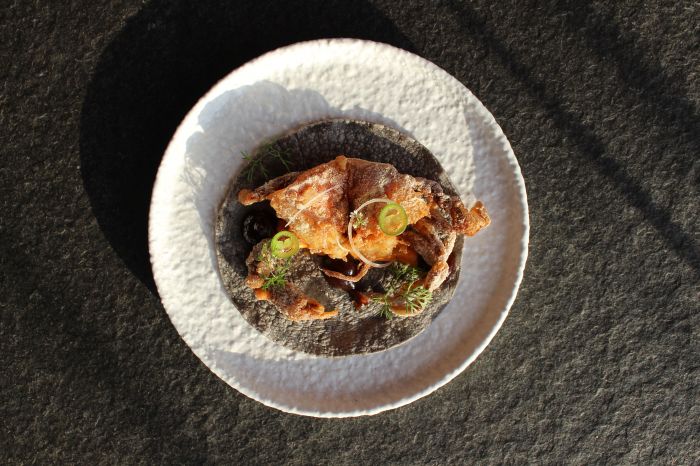 Image Courtesy of The Cape, A Thompson Hotel
Guests have the option of alternative no contact in-room dining options, housekeeping services, and other amenities. The Cape's open-air concept makes the hotel ideal for socially distanced relaxation. Pool loungers are spaced 6 ft. apart and there are also private, fully serviced cabanas should guests require additional privacy. Guests can also spend the day on Monuments Beach, a prime surfing spot and The Cape's fully-serviced beach where guests can reserve loungers and order beverages and gourmet light bites from Point Break, the hotel's main pool's swim-up bar and terrace restaurant. 
Behind the scenes, The Cape has implemented enhanced team member well-being checks, provided personal protective equipment to all associates, while constantly improving, reviewing and implementing safety training protocols so as to adhere to CDC standards without detracting from the guest experience. In addition to ongoing training, employees are monitored for any COVID-19 symptoms and are required to wear the appropriate equipment. Guests and employees are required to adhere to physical distancing by standing six-feet away from other groups who are not traveling with them — including lines and elevators, which are currently operating at limited capacity.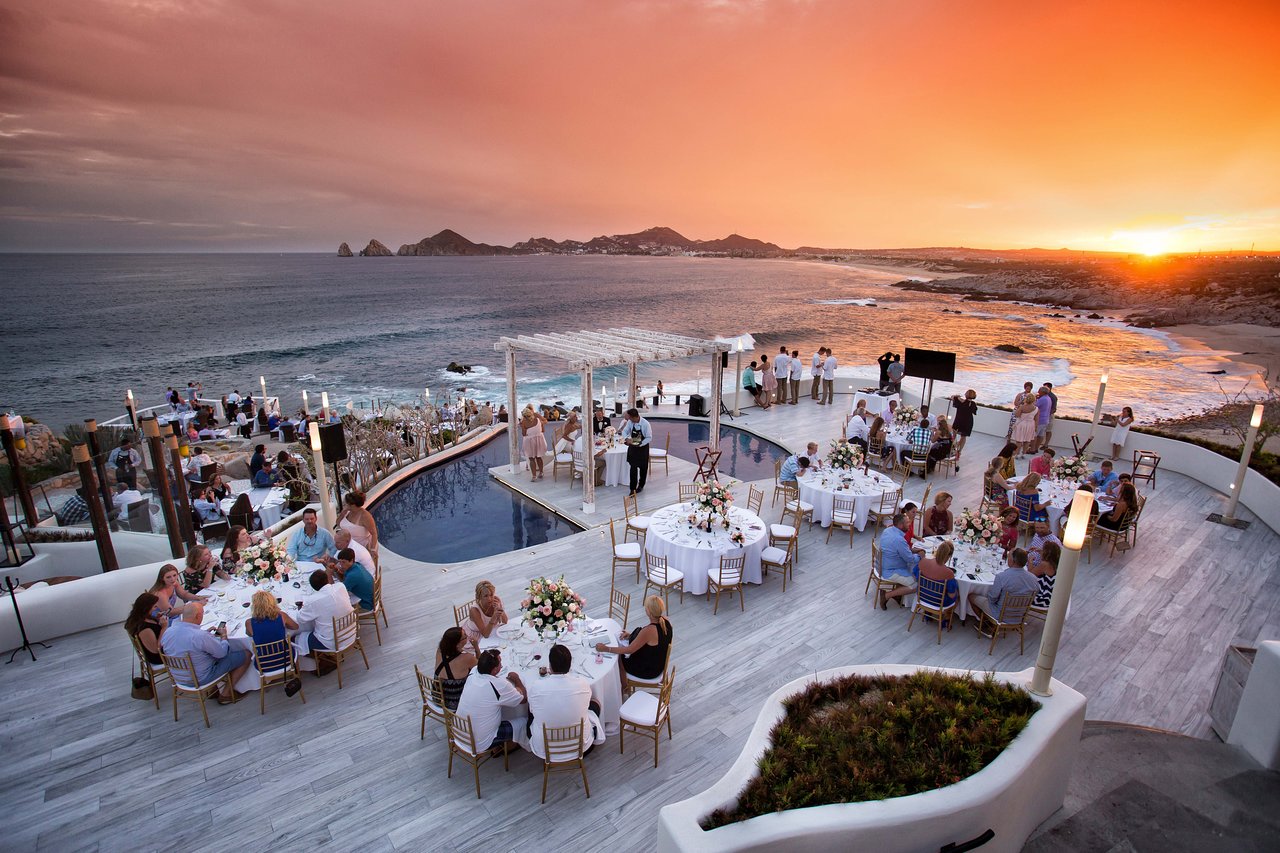 Image courtesy of Sunset Monalisa
For guests looking to explore beyond the hotel, it just so happens that one of the world's best restaurants is just a stone's throw away. Directly adjacent to The Cape, is Sunset Monalisa. One of Cabo's most iconic culinary destinations and a perfect place to enjoy an open-air, socially distanced dinner. Recently named "one of the top 5 coolest restaurants in the world" by the Tribune Express, Sunset Monalisa is an architectural masterpiece. Carved into a cliff overlooking the Bay of Cabo San Lucas and the famous Arch at Land's End, Sunset Monalisa presents a unique culinary experience designed to impress even the most discerning foodies. Helmed by Chef Jacob Ramos — formerly of LA's Patina Group and Ritz-Carlton Hotels — the menu is comprised of exquisite Mediterranean Cuisine with contemporary Mexican influences. Chef Ramos attributes this flavorful juxtaposition to his diverse background, "I cook French; it's my root of cooking. But I love Mexican because I grew up eating my mom's and grandma's enchiladas." 
Guests of The Cape can reach Sunset Monalisa via a fully sanitized open-air shuttle that safely transports passengers from The Cape's entrance up the hill to Sunset Monalisa in less than 5 minutes. Upon arrival guests will find multiple terraced dining spaces to choose from for outdoor dining, including the Ocean Terrace Bar with several fire pit areas for enjoying nightly live music and Cabo's spectacular sunsets. The Chef's Tasting is extraordinary, and a perfect way to experience the best that Sunset Monalisa has to offer. With options such as Mano de Leon Scallops, Wagyu Short Ribs, and King Trumpet Carpaccio, a true culinary adventure awaits.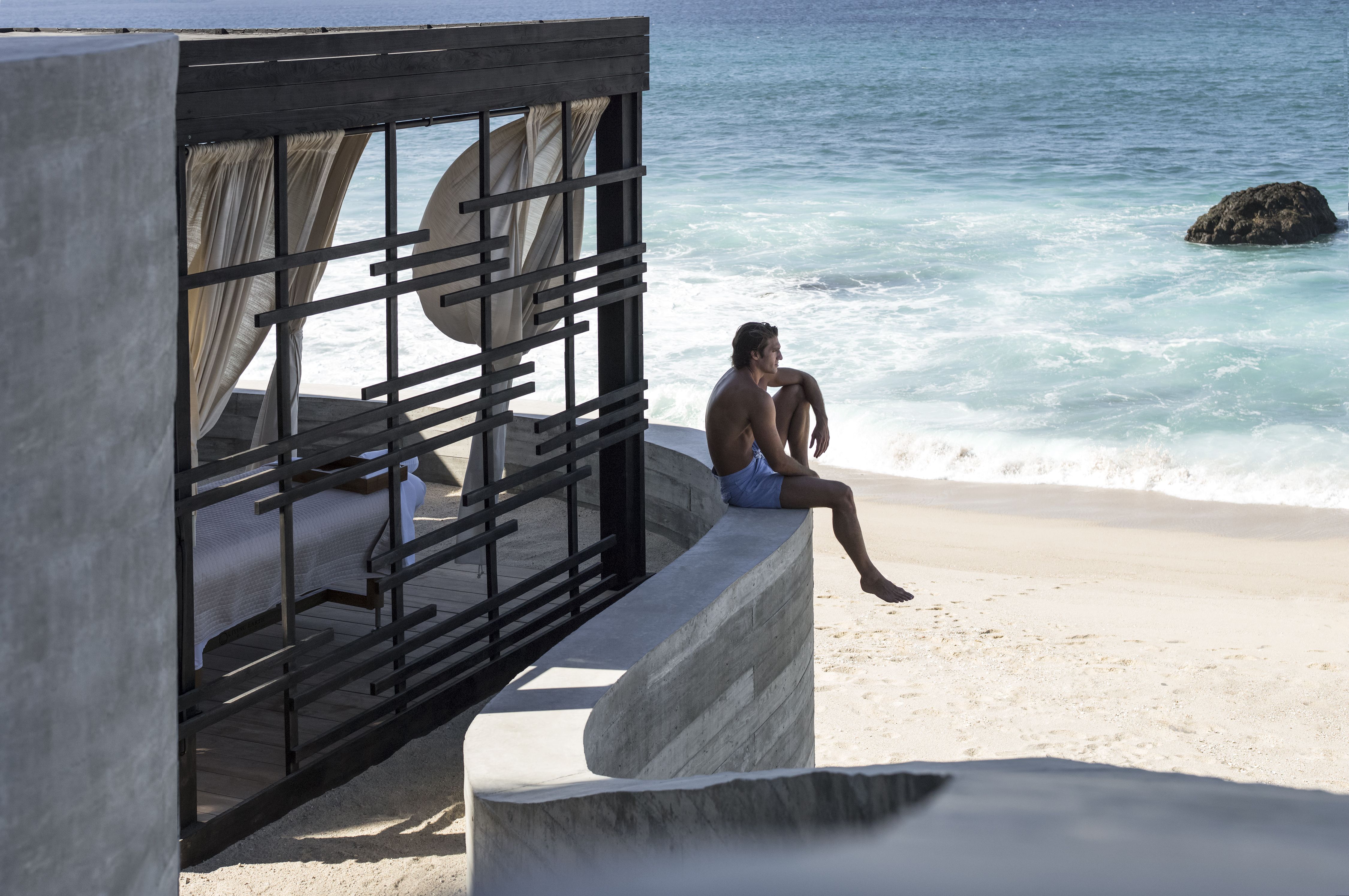 Image courtesy of The Cape, A Thompson Hotel
In a new era of luxury travel where both safety and convenience is a foremost priority, Cabo San Lucas offers the perfect getaway for travelers seeking relaxation, respite, and something new. The Cape, a Thompson Hotel has taken the lead in maintaining elevated standards of the guest experience for a secure and seamless holiday. All while taking advanced steps to ensure the health and comfort of travelers in search of an escape that offers everything required for a luxurious and safe getaway.
For reservations or more information visit www.thompsonhotels.com