Kyoto Japan is the manifestation of what many sophisticated travelers think of when seeking out a fascinating travel destination. A rich culture based on thousands of years of traditions, natural beauty, and an endless list of UNESCO and sightseeing wonders. It is, in a word, magical. There is no better way to indulge in an authentic Kyoto experience than staying in one of the luxury ryokan offered by the Nazuna hotel group.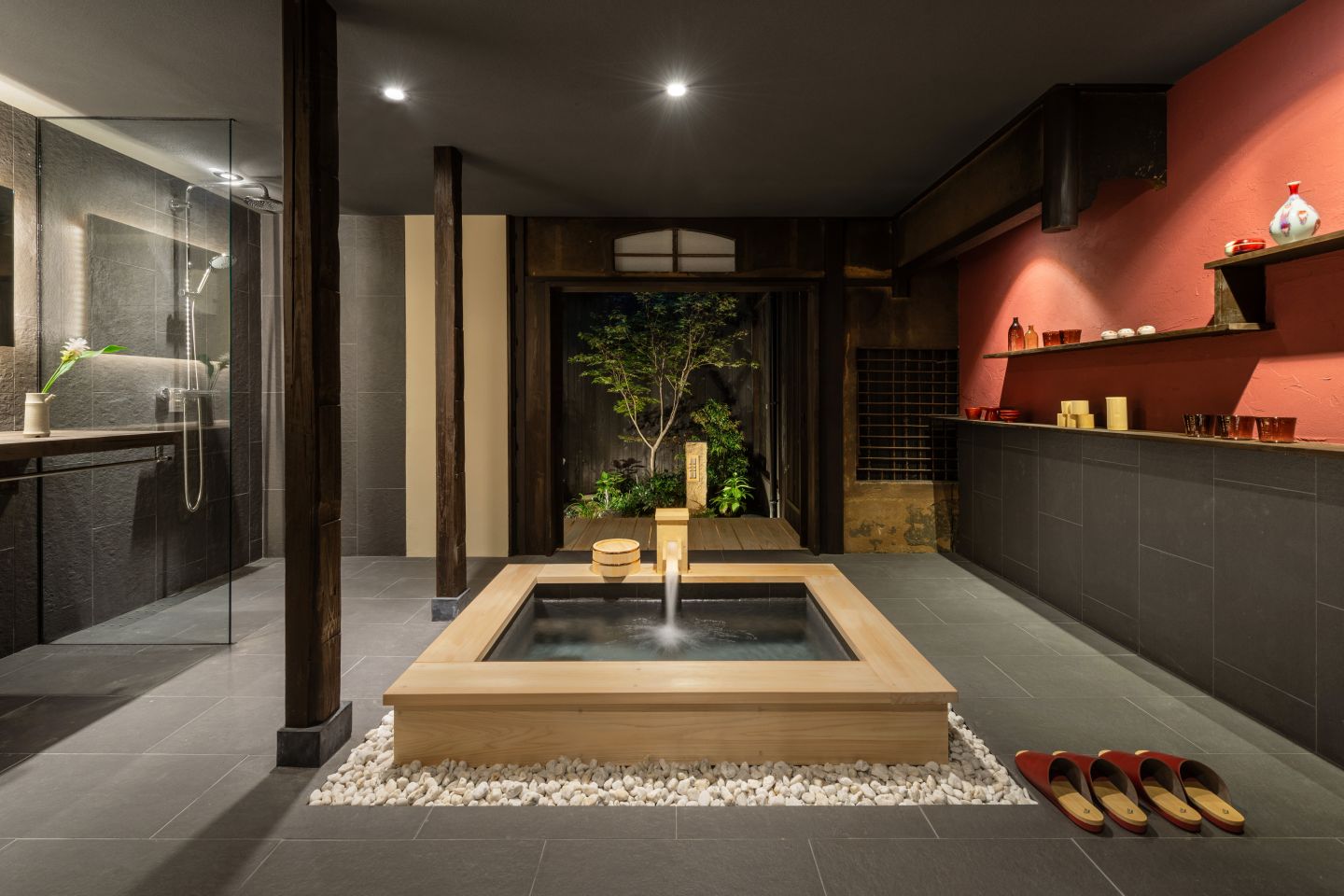 Most upmarket international travelers in Kyoto will stay in the glossy five-star outposts from the international hotel brands with whom they are most familiar. They are all there as Kyoto is such a popular destination and are typically located near a major tourist area or transportation hub. However, the inquisitive traveler, looking for a more authentic and immersive holiday, will choose a ryokan type stay. Forget your images of laying on the floor with just a blanket and eating ramen noodles for meals; these experiences could not be further away from that. Ryokan experiences as provided by Nazuna are luxurious, the dining experiences are exceptional, and the service is warm and engaging. But what makes it most special is the obvious and the subtle nuances found in their authenticity and the real Japanese experiences that you have during the stay. Guests relish the traditional food dishes, cultural interactions such as the tea services, or perhaps a soak in your onsen – the traditional Japanese bath.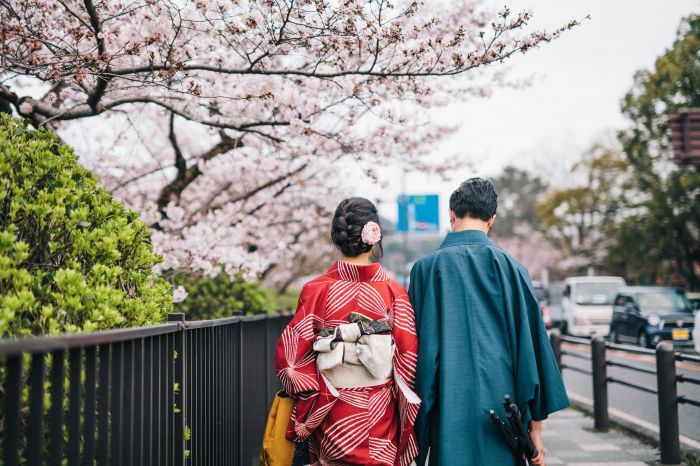 The Nazuna hospitality group is run by young, smart, and savvy entrepreneurs who were educated in the top grad schools of the West. They brought this western world view back to Japan and began a hospitality company focused on creating authentic Japanese accommodations refined with modern comforts and service excellence. Instead of bulldozing homes that have stood for hundreds of years to build some gaudy shiny skyscraper hotel, they respectfully reimagined them, preserving what they could and integrated the ancient exteriors, walls, and frames into their modern designs.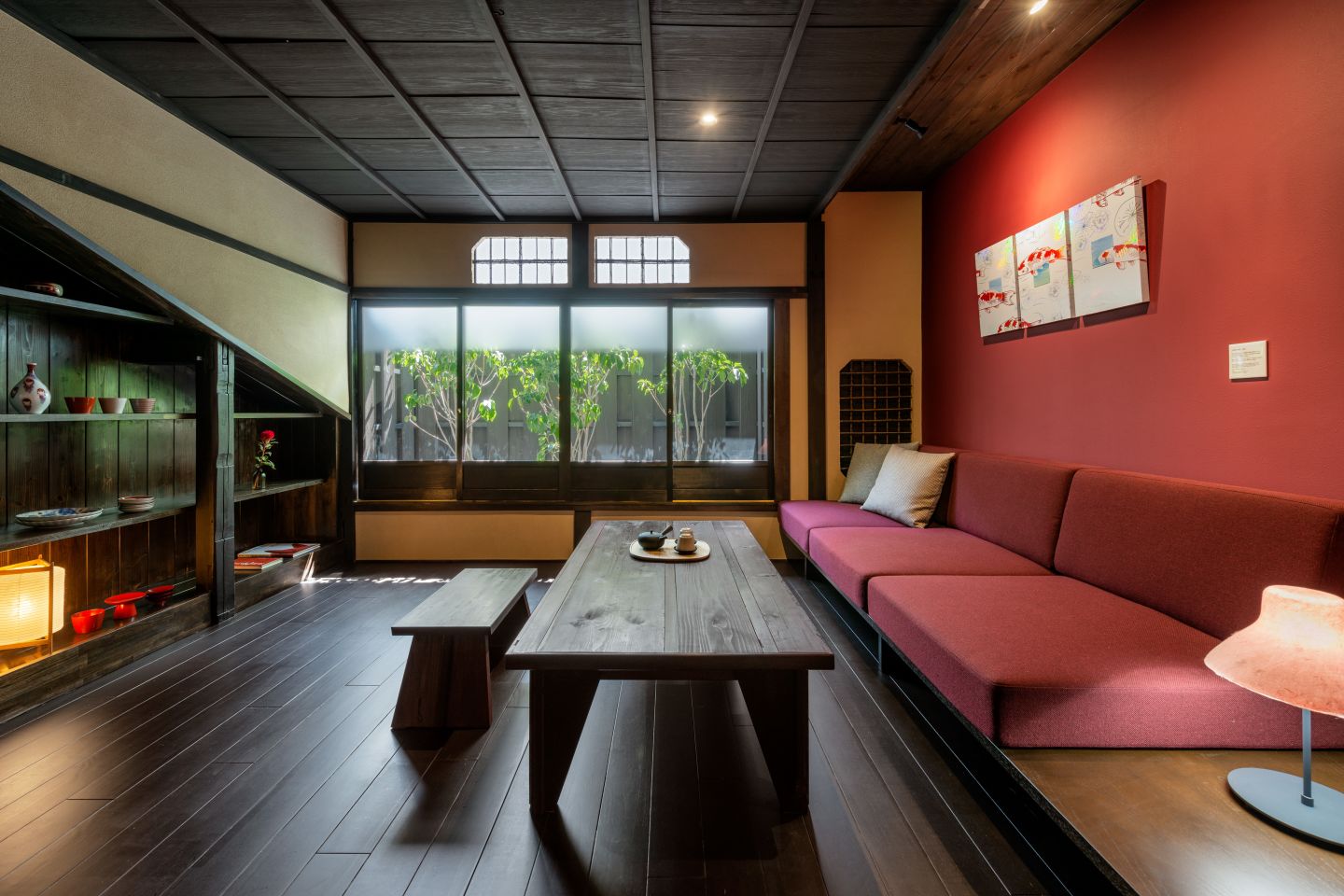 Their clutch of inns and villas around central Kyoto has been smartly renovated with all high-tech modern amenities that today's traveler demands while keeping the spirit and traditions of yesteryear. The service is 100% Japanese and rooted in omotenashi or authentic Japanese hospitality, so you will find smiling faces and caring, personalized service as the norm as is finding ways to continuality delight each guest.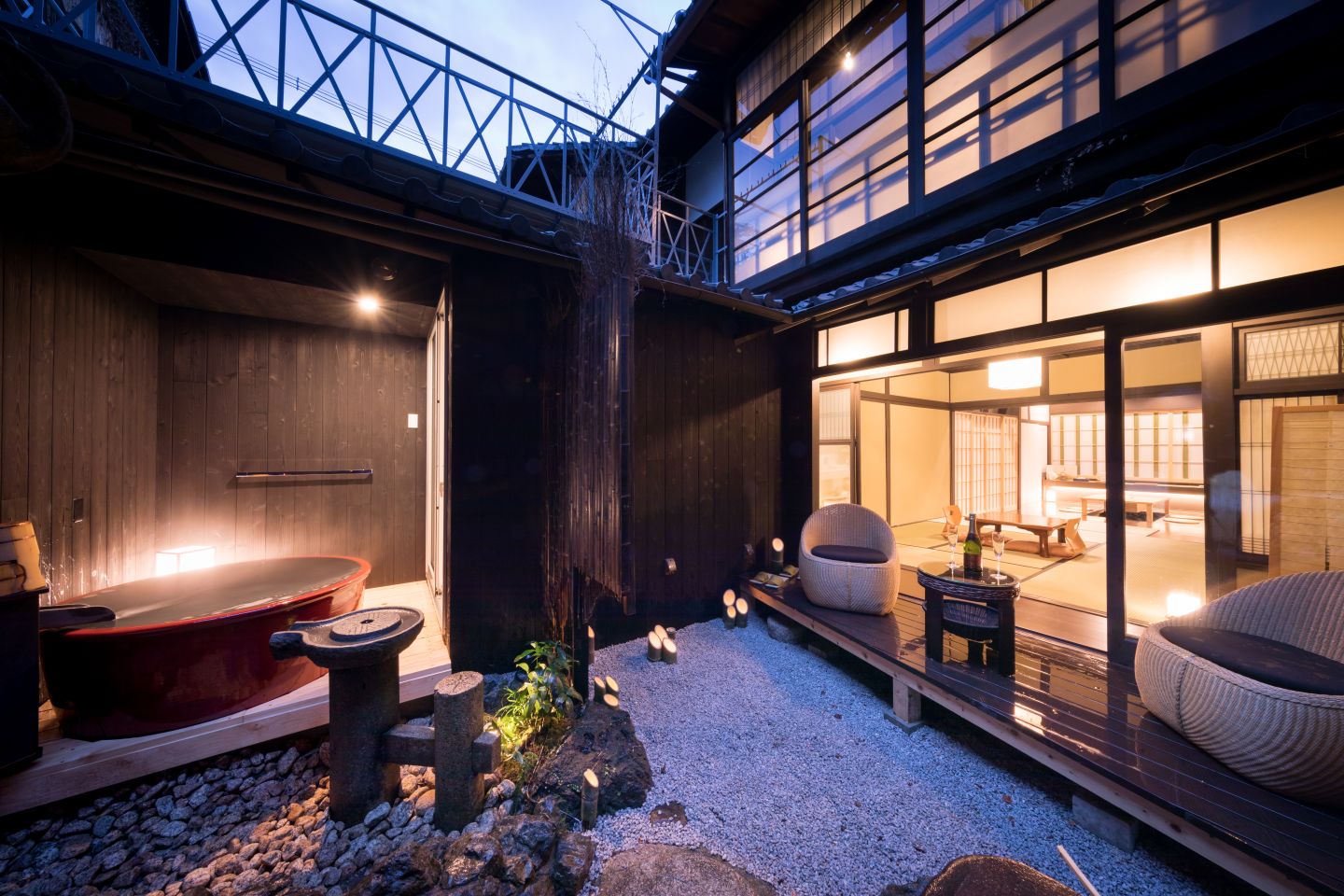 The company offers a unique and authentic new generation of ryokans in Kyoto and Miyazaki, located in the southern part of Japan.  Most are repurposed homes restructured into boutique bed and breakfast style accommodations while others are stand-alone villas. Their most ambitious project to date is the recently opened Nazuna Kyoto Tsubaki Street which is several homes on a street converted into a low-rise hotel complex.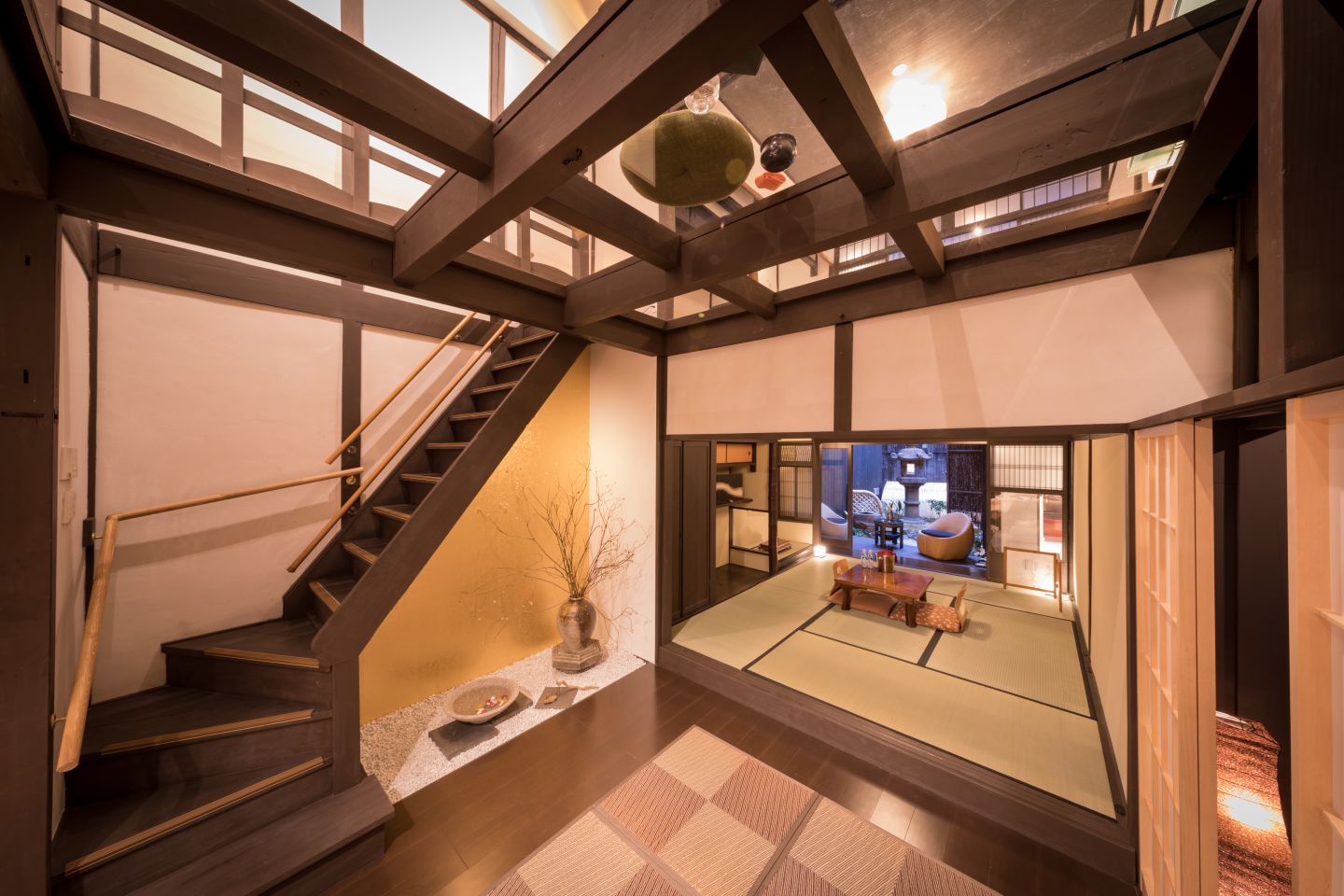 Ryokans are Japanese-style inns known for their clean design with a neutral earth tone color palette that creates a peaceful environment for the stay. You will see the ubiquitous tatami mats which are made from hay and straw to provide a long-lasting comfortable floor covering. Rooms are typically divided by translucent Shoji or rice paper screens which allow for privacy while allowing in light. Open spaces feature simple natural wood furnishings often low to the floor but in more contemporary styled Ryokans you will find more westernized sofas and chairs. The décor is always uncluttered to provide a tranquil environment with engaging traditional wall art or calligraphy and there is typically an altar space for meditation or prayer.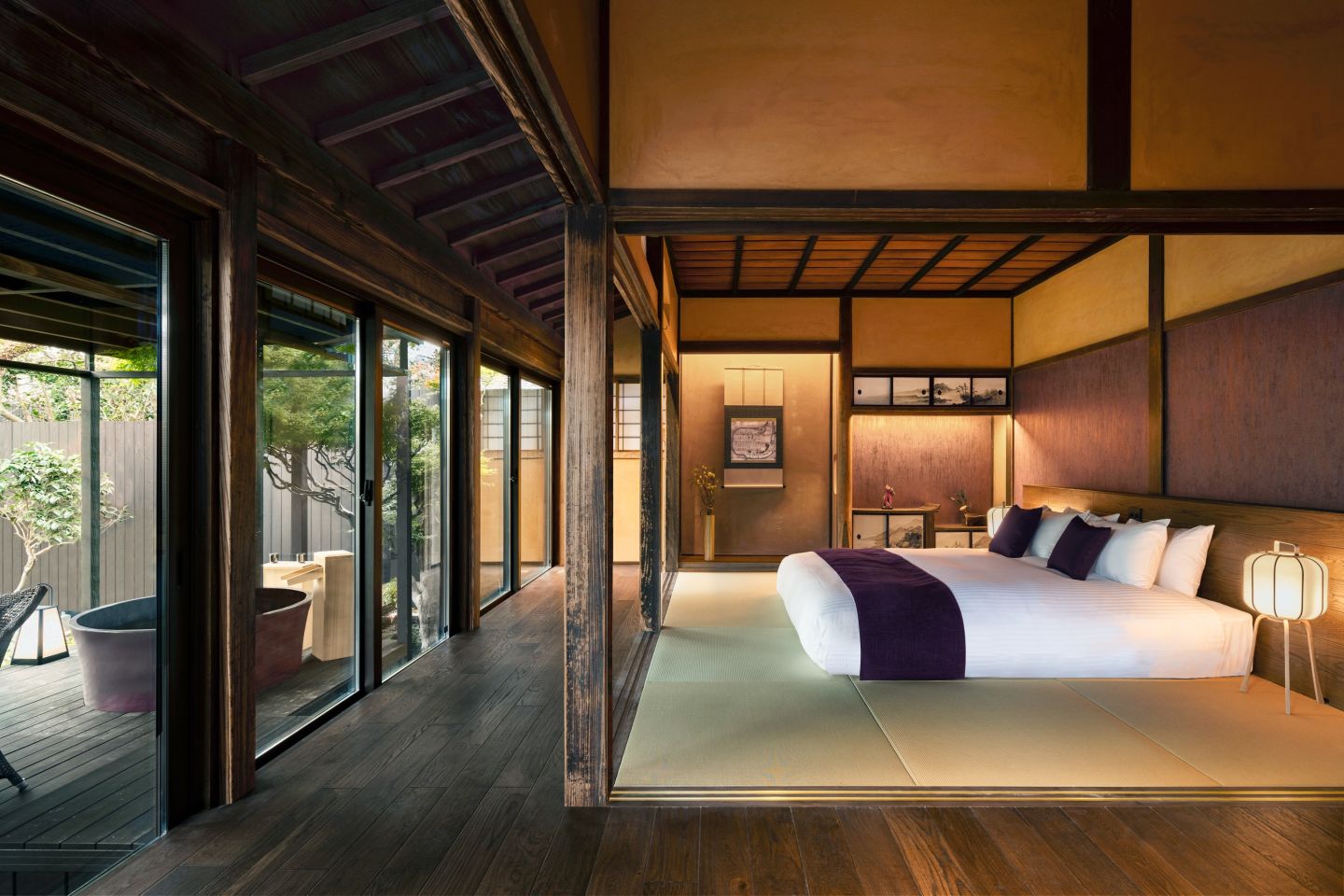 Bedrooms for today's ryokans feature plush bedding and thick mattresses on platforms and assure a good night's rest. Ryokans will most often feature a bath that may be partially outdoors either in the shape of a large tub or and ofuro-style rectangular deep wooden bath.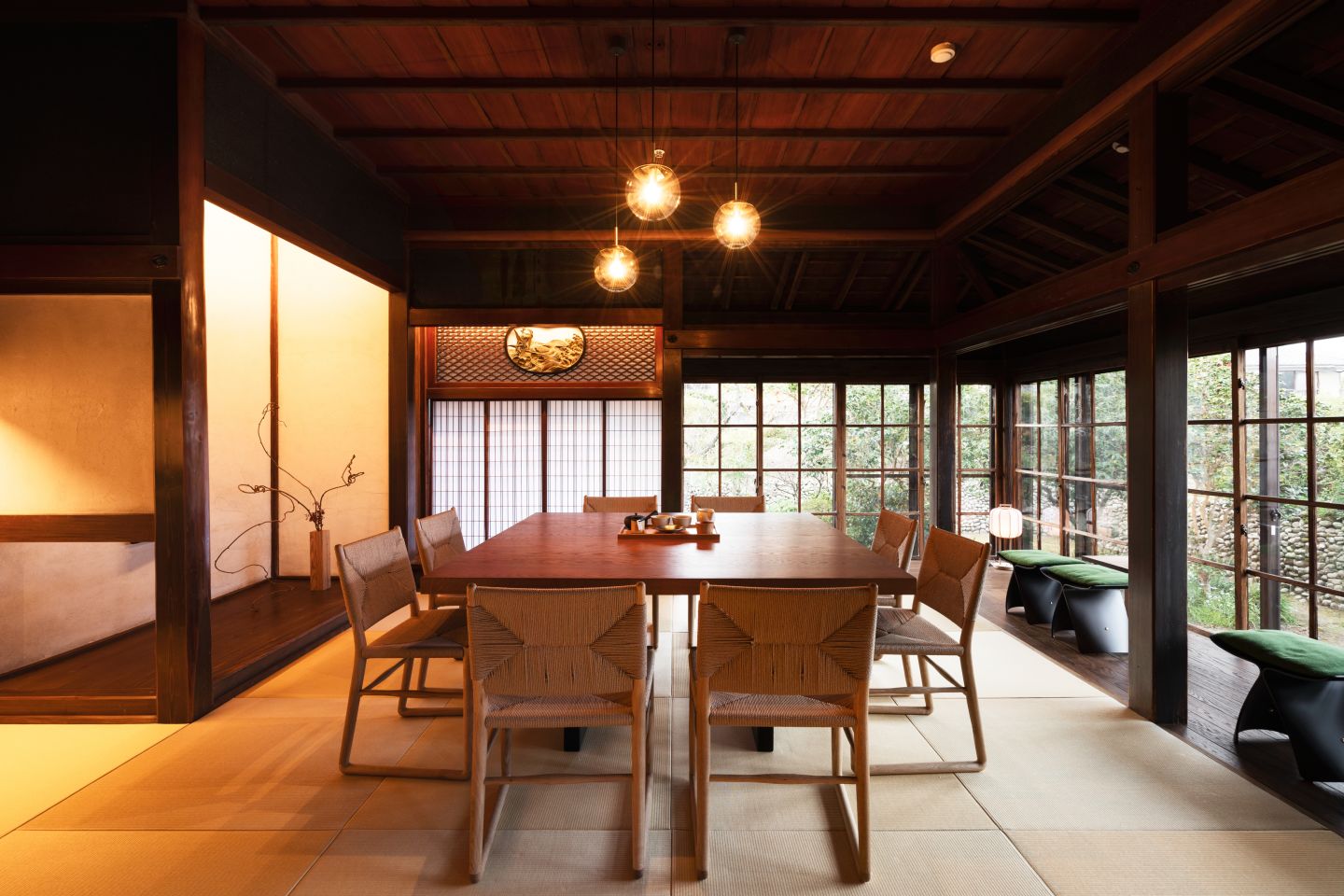 Japanese culture is deeply rooted in their tranquil lifestyle which is a key part of the décor and design of the ryokan. The home is a positive and comfortable space that begins as you enter and remove your shoes for indoor house slippers. Later, you will disrobe and put on your yukata which is a light Japanese robe ideal for relaxing while at home.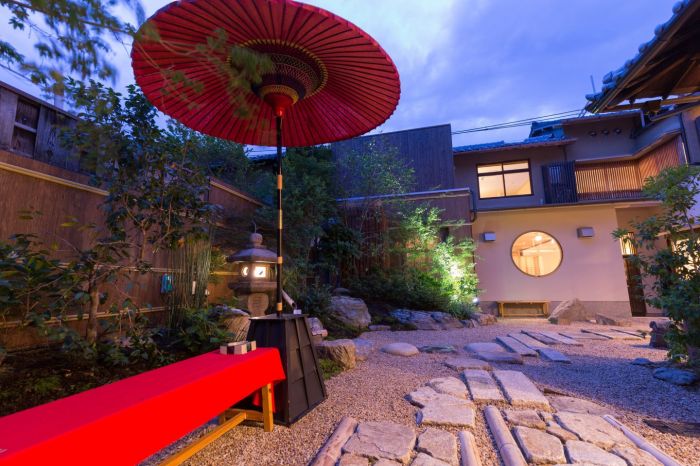 Most ryokans have an outdoor garden created to provide a Zen-like space to be alone with one's thoughts. Although they vary in size and shape, often these gardens will have a water element, trees and foliage, and pebbles covering the ground. More elaborate homes have rock gardens with pebbles to be raked into neat rows or other designs which adds to inner calm from being grounded in the earth.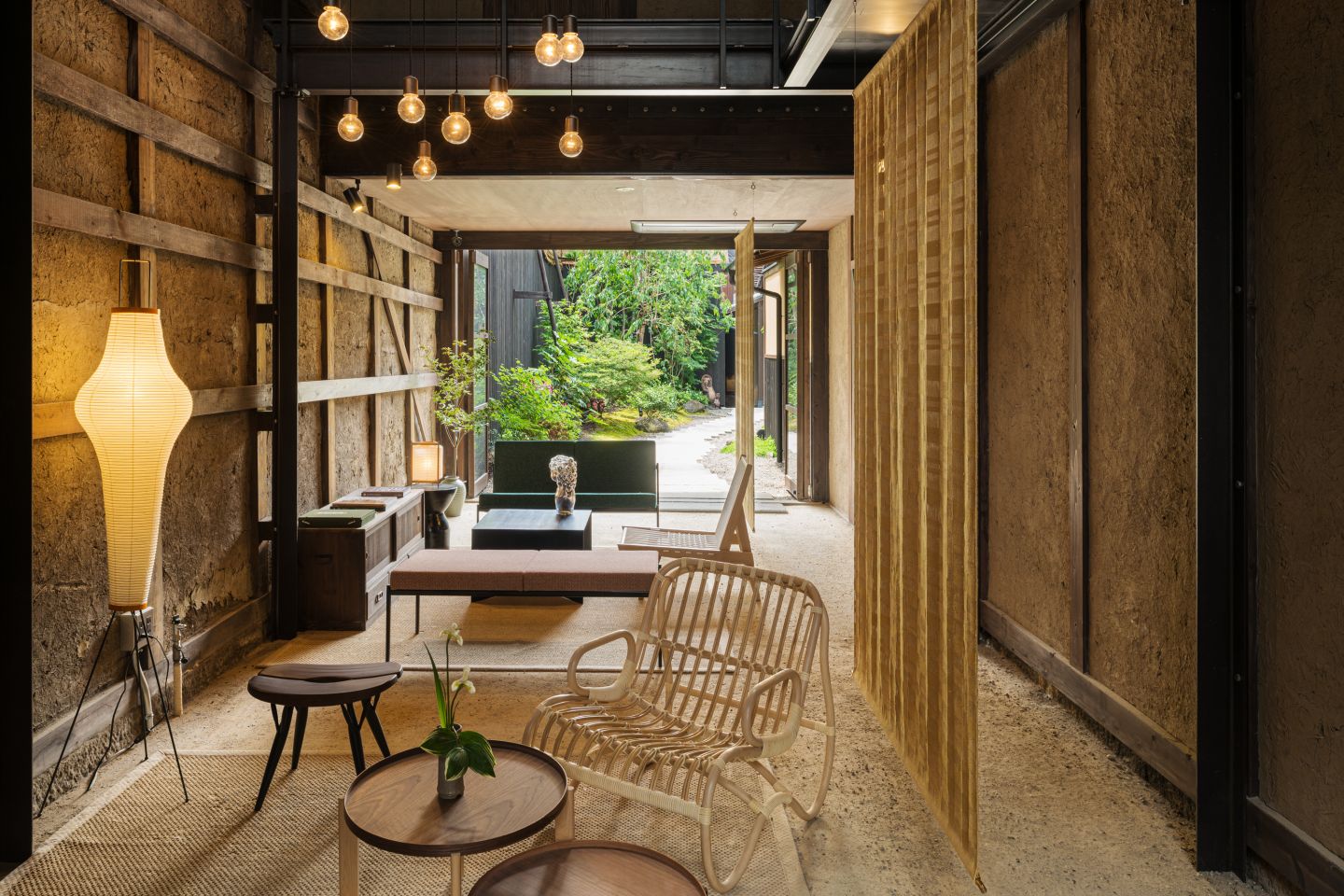 Nazuna Kyoto Gosho
In a residential Kyoto neighborhood, not far away from the Kyoto Imperial Palace is the Nazuna Kyoto Gosha. The ryokan sits behind a typical façade, not unlike the others in the neighborhood. Two traditional townhomes have been renovated into a lovely seven-room boutique hotel. 
Once past the entry, the lounge area offers a blend of industrial design with the traditional and contemporary furnishings and modern style lights. The Japanese contemporary décor is perfectly paired with the exposed rafters and ancient walls of this family home that has stood for over 100 years.  Past the guest lounge is an outdoor garden, dining area, and guest rooms. In another part of the hotel is a private onsen room where guests can reserve time to soak and relax with their loved one. The hot water penetrates deep into sore muscles to melt soreness and stress away.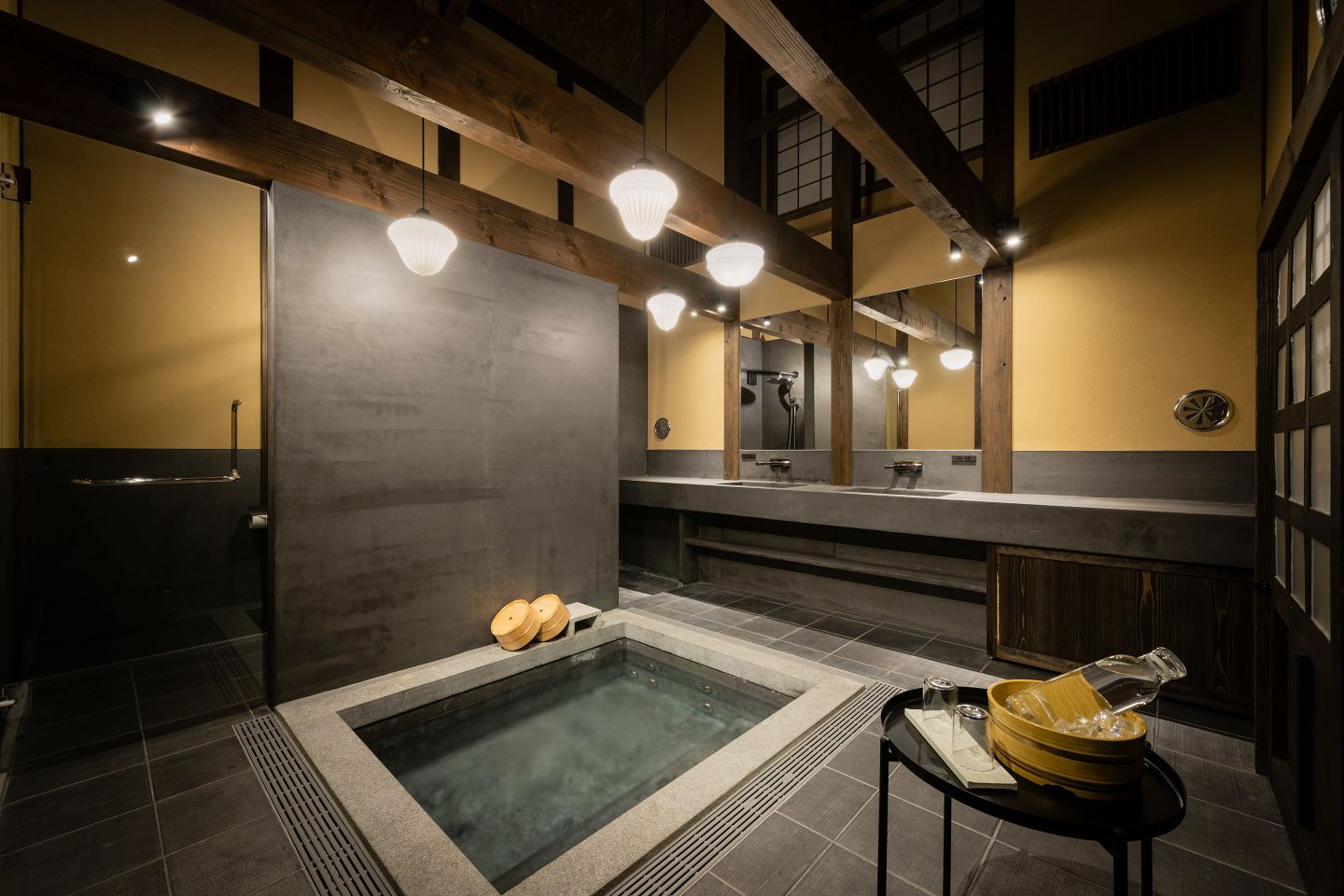 The room configurations vary in size and amenities. The Kashiwa Mochi accommodation is akin to a suite and features several rooms connected by a covered outdoor walkway that is centered around a lovely outdoor rock garden. One side of the square-shaped accommodation is the living room with a sitting area entertainment area with television. The design features traditional Japanese décor, rice paper doors, and an altar-like area made for sitting and reflecting as you will find in most traditional Japanese homes. Along the covered walkway is the bathroom and shower with a modern industrial design and bespoke bathroom amenities.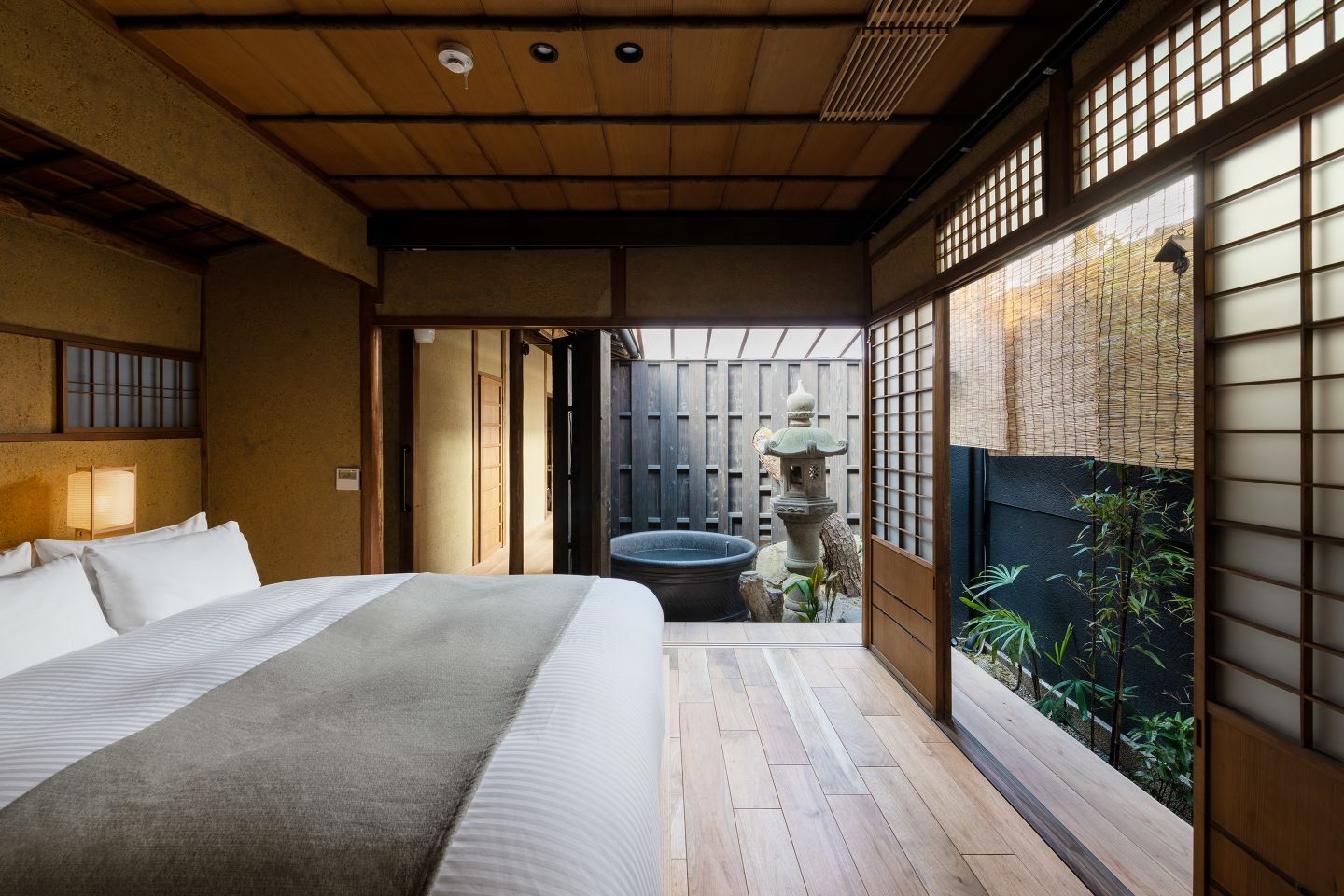 The quarter's most special feature is the bedroom. The bed is a king-size bed with an uber-comfortable Simmons mattress set on a platform. The other wonderful feature is a private oversized round bath ideal for a hot bath with your loved one before bedtime.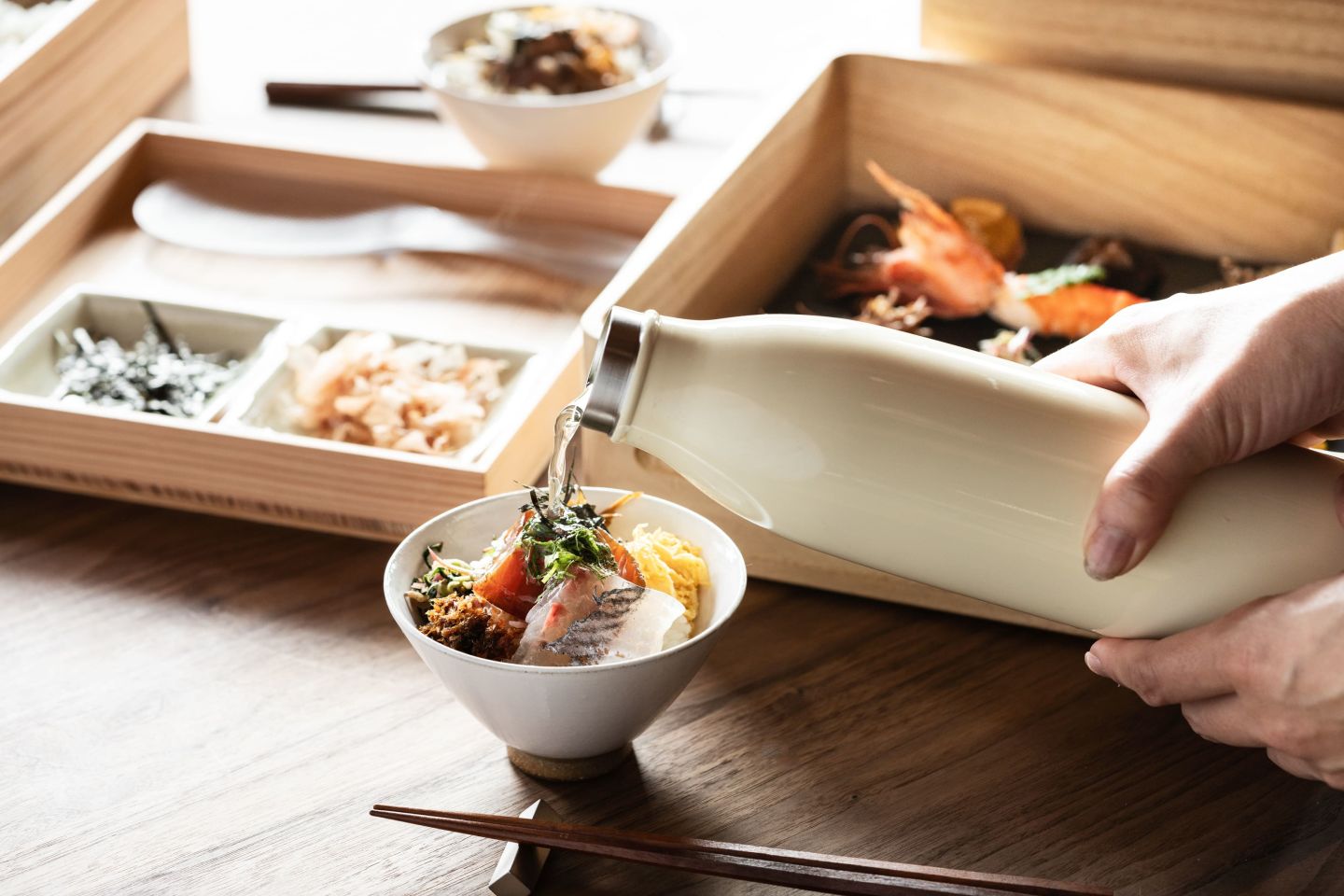 Guests enjoy an authentic Japanese breakfast starting with a dish of several delicious small bites followed by miso soup, rice, grilled veggies, and fire-roasted fish accompanied with several sauces.  All of this is grilled right in front of you on a coal fire set in the table to roast each dish. It is as much entertainment as it is sustaining as you watch and interact with the friendly staff and learn about the culture before enjoying the delicious and unusual menu. To make the stay complete, complimentary nibbles are available throughout the day including beer and sake and yummy traditional Japanese snacks.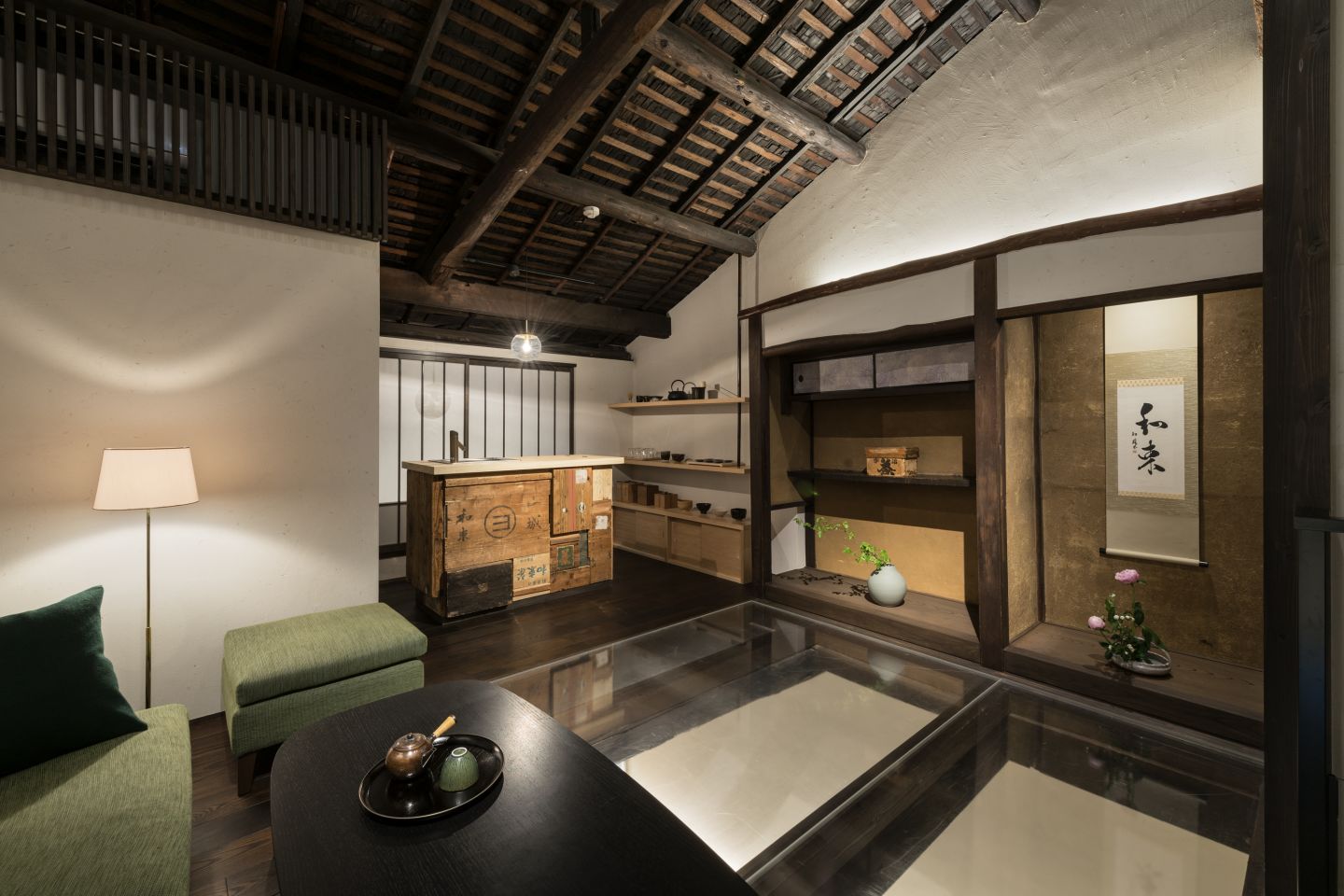 Kiraku Kyoto Honmachi  
Nazuna offers a range of accommodations options including private villas. In a characteristic Kyoto neighborhood is the Kiraku Kyoto Honmachi, a private villa. This is an ideal getaway for romantic couples with a contemporary décor that blends the old and the new. Upon entering the two-story villa, there is the traditional tatami room with customary furnishings, throw pillows, and a television. Upstairs is the main living space under a vaulted ceiling with exposed rafters. The walls are adorned with contemporary art pieces in a space that is extremely well decorated with lovely Japanese modern artwork. The villa features a kitchenette with a table, and a wet sink as well as complimentary beer, sake, and snacks. The room's most unusual feature is the clear acrylic floor overlooking the master bedroom below. It is quite dramatic and a lovely statement piece for the room.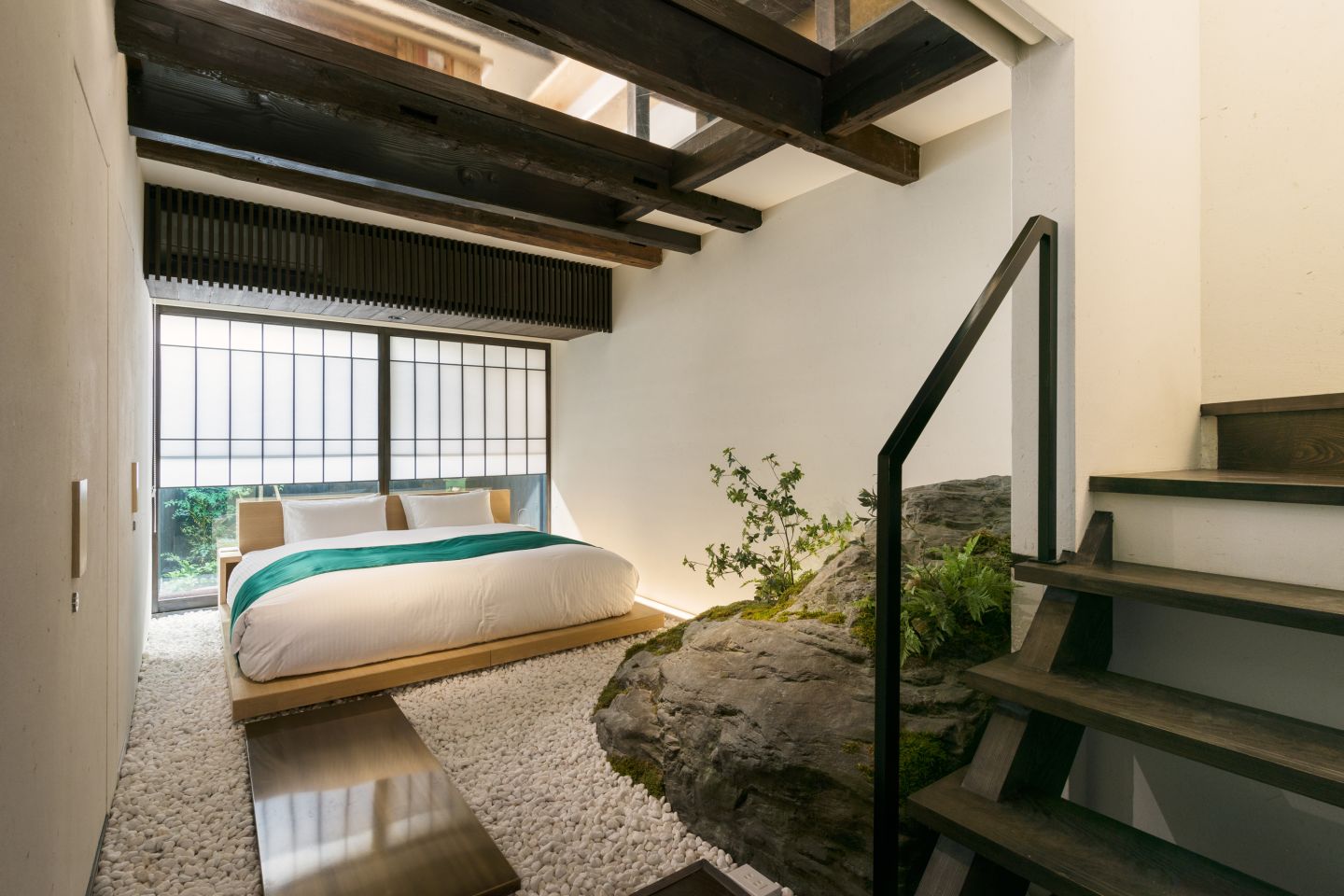 On the first floor is the lavish bedroom that sits upon a white rock garden. From the bed, the living space above is in full view, which is interesting, to say the least.  The villa's next decadent feature is the private outdoor bath. Around the splash pool-sized bath is a rock garden and dramatic lighting, custom made for lovers.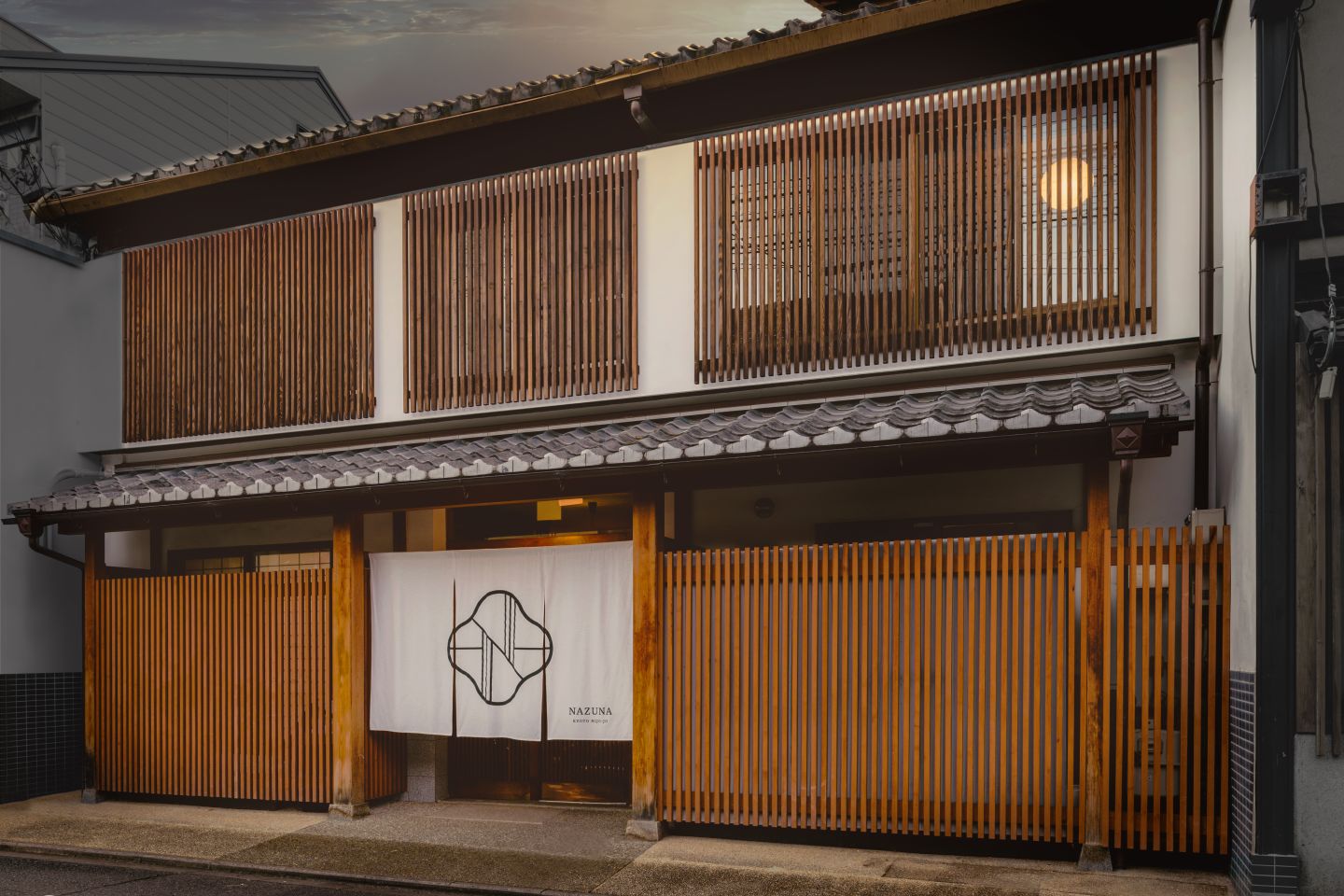 Nazuna Kyoto Nijojo
The Nazuna Kyoto Nijo-jo is a Japanese inn and is located in a normal Kyoto neighborhood a short walk from the Nijo Castle. With a good mix of locals and gaijin or foreigners, the location is ideal to explore the city and a short taxi ride away from most of the main tourist attractions. Once inside, you will see an area with guest shoes neatly arranged upon a shelf and a sitting area to put on the provided house shoes. No outside shoes are allowed as they will dirty the spaces as well as damage the delicate tatami mats located throughout the boutique hotel.  
Nazuna Kyoto Nijo-jo features a lovely outdoor rock garden, a tranquil space to go with your thoughts, to meditate, or to just be at peace in a natural environment. Quietude is priceless as you pass time amongst rock gardens, bonsai trees while listening to the birds chirping and gurgling water from a simple bamboo fountain.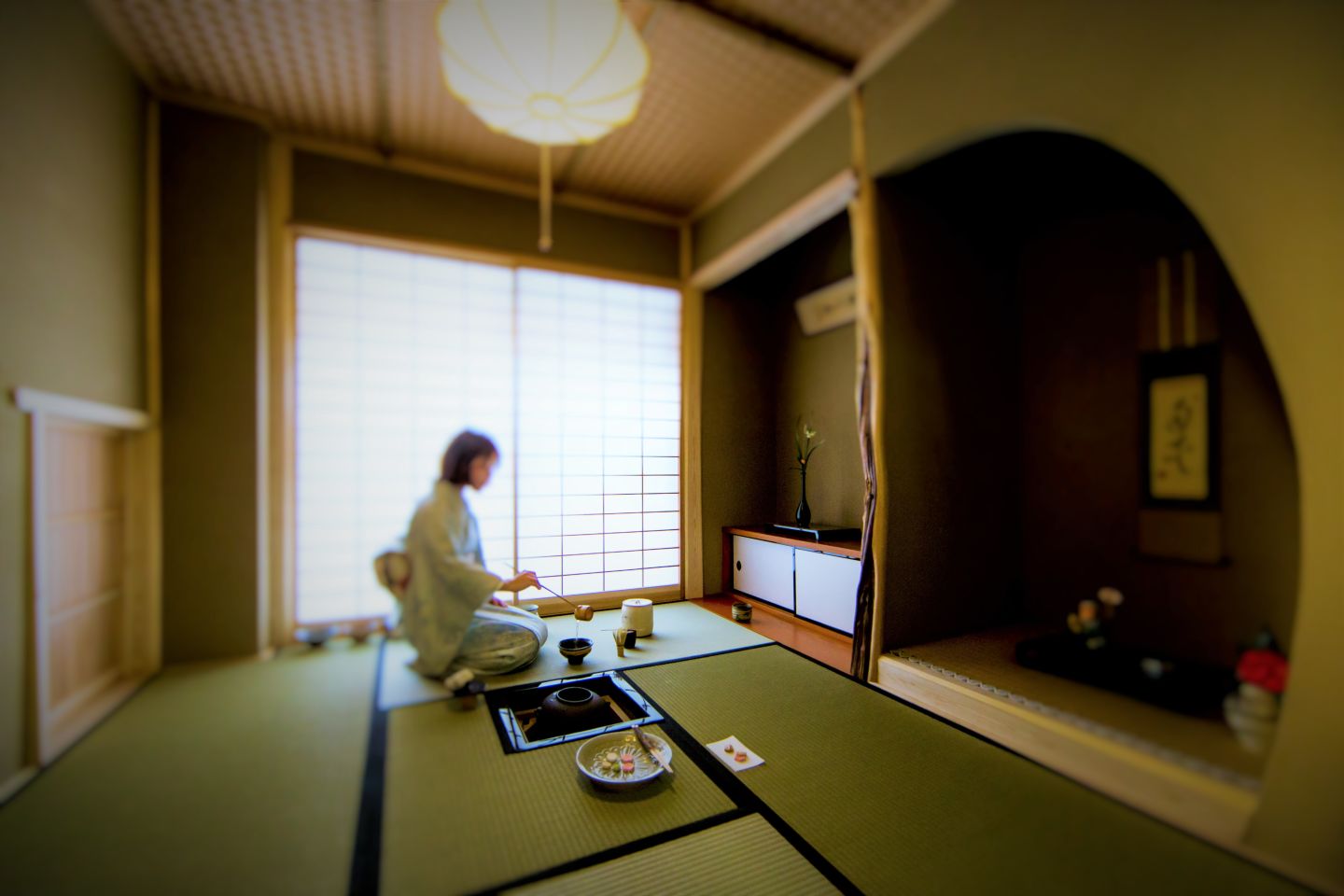 Another unique feature is the Japanese tearoom. This is a must when visiting Japan but, in particular, when in Kyoto. This more about the ceremony than it is the cup of matcha – a green powder-based tea – as you'll watch your tea mistress who has been trained and certified by a master in this exquisite thousand-year-old tradition.  For the tea ceremony, guests enter a smallish room and are mesmerized by the expert tea mistress and the exacting 200 steps process that goes into preparing the tea with rituals built on generations of technique, protocol, and respect for the ways of old.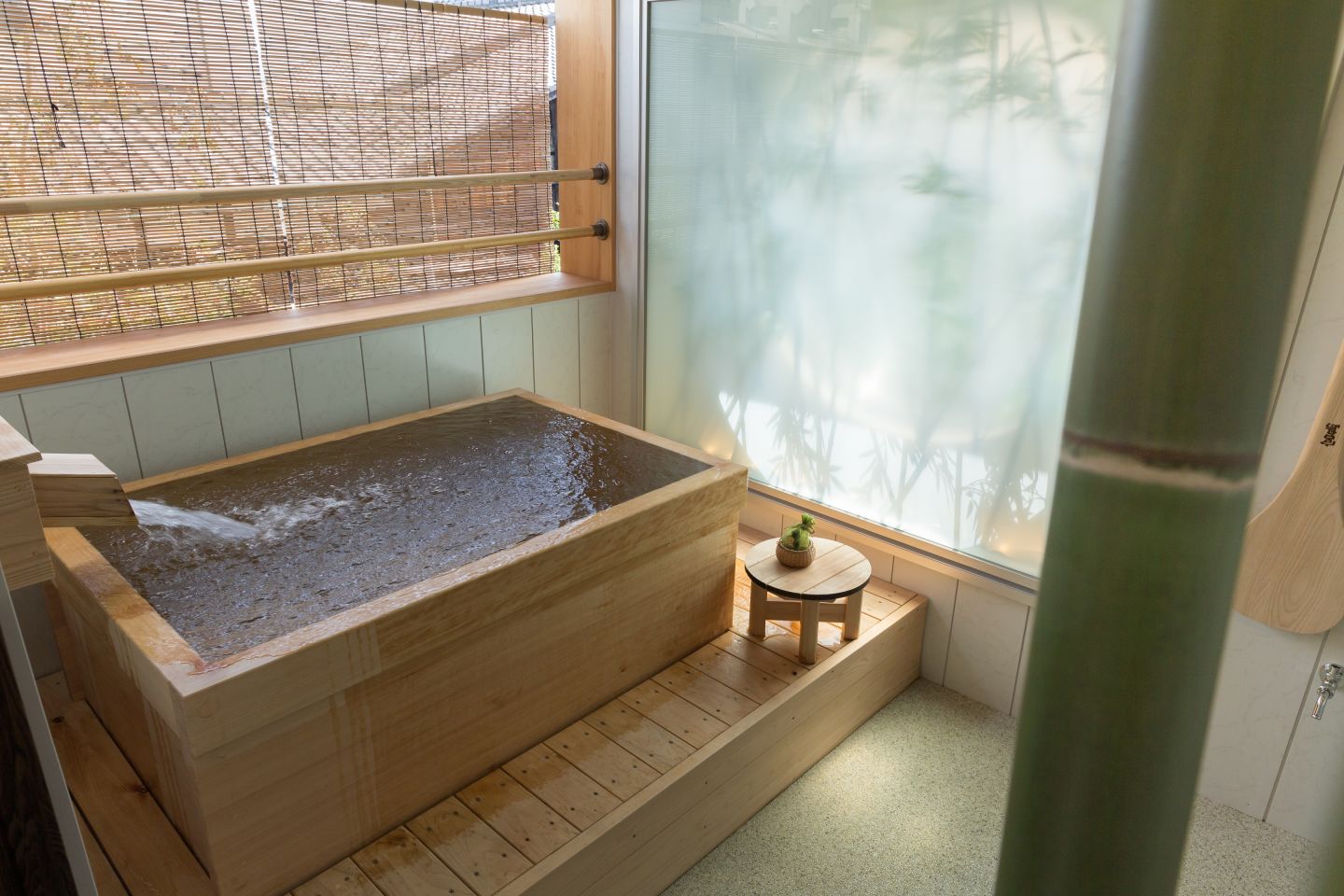 Nazuna Kyoto Nijo-jo offers five unique accommodations that are comfortable and again, vary by size and amenities. The Gyokuro suite has a large veranda overlooking grounds with a spacious ceremony room, bedroom with plush bedding, and lovely artwork created by local artisans.  The onsen is incredible as well, a large square bath made for relaxing and relieving stress. Guests will also enjoy the traditional Japanese breakfast and complimentary snacks.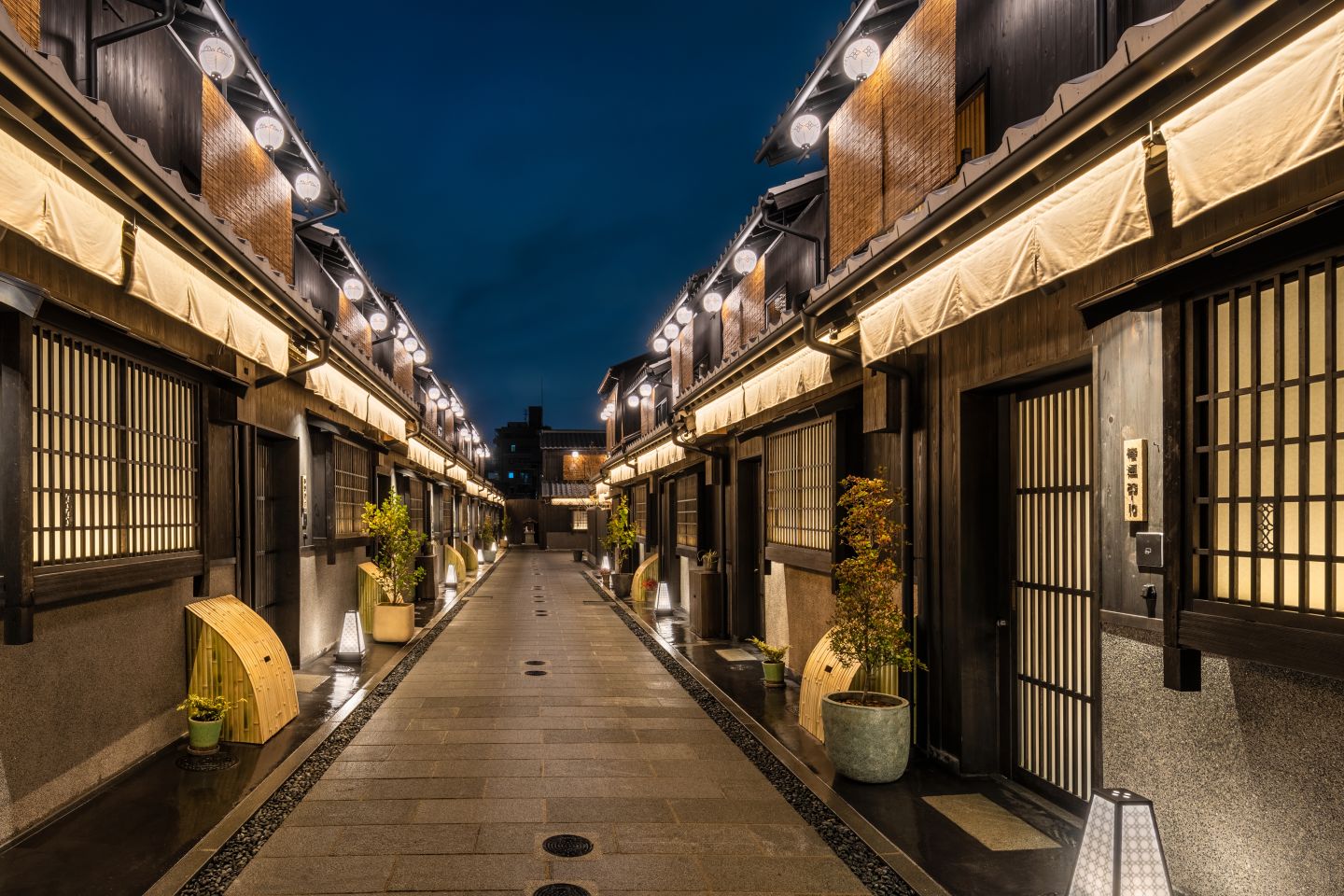 Nazuna Kyoto Tsubaki St.
Nazuna's most ambitious project something somewhat unheard of in the hospitality industry. Take an entire neighborhood of traditional somewhat rundown townhomes and do the opposite of conventional thinking. Do not bulldoze them. Instead reimagine them into a repurposed low-rise hotel, of sorts. The result is a 23-unit residential block created for the traveler who wants something more. Guests receive the most modern travel amenities in an uber-luxurious ryokan and a full immersion into Japanese culture and traditions that could only be created by the Japanese.   This project is genius, and the experience is unrivaled.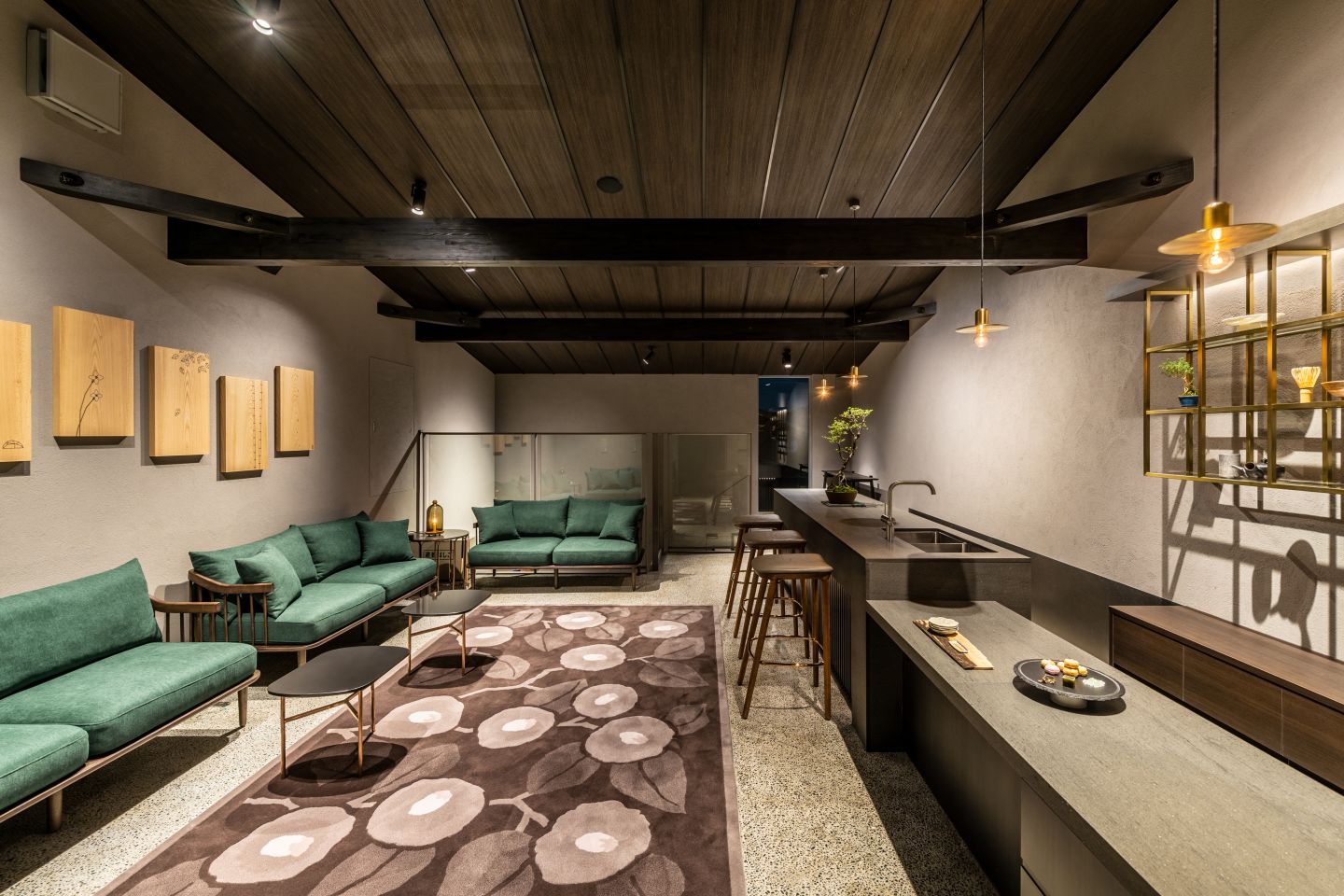 The L shaped Tsubaki Street is filled with homes over 100 years old that has been completely renovated inside and modernized on the outside to give a Japanese style and charm to the area. The "neighborhood" has been repurposed to resemble the geisha district which is just a 10-minute taxi ride away. There are cobblestone walkways and a lively pedestrian area, and, in the evening, the lights are low and accented by the glow of Japanese paper lanterns. 
Nazuna Kyoto Tsubaki Street offers travelers another exclusive travel gem. Restaurant Q is a gastronomic experience created to impress the most jaded gourmand. The fine-dining restaurant is helmed by the chef of one of Japan's top restaurants, the 3-Michelin star Gion Sasaki. The restaurant is beyond exclusive with only six seats to provide a culinary journey of the haute traditional Japanese fare.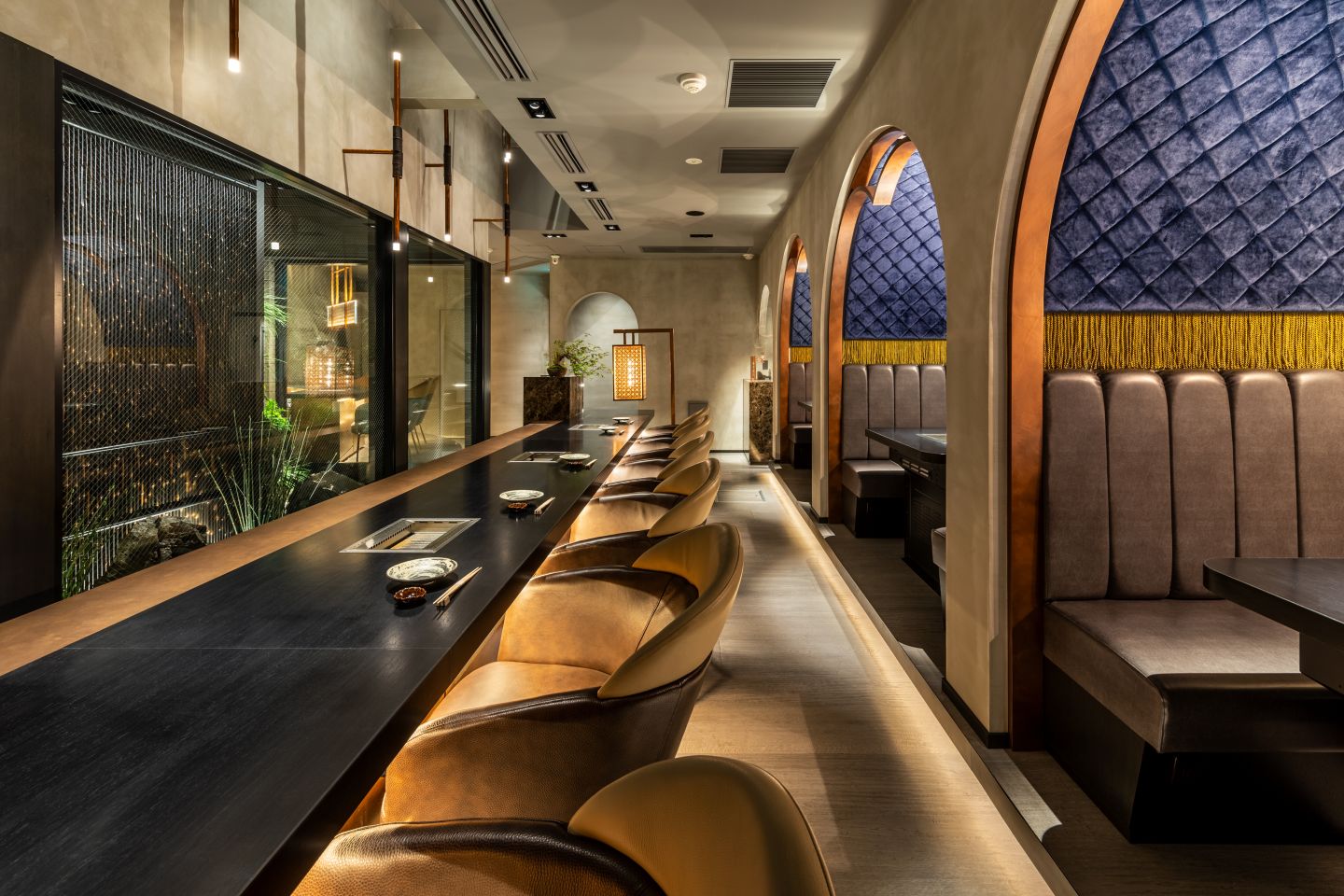 Nazuna Kyoto Tsubaki St. boasts a second haute dining experience at their Restaurant Wagyu Ryotei Bungo serving specially selected high-quality Japanese wagyu beef. This is an exclusive restaurant with seven private and semi-private room sitting between two and eight persons.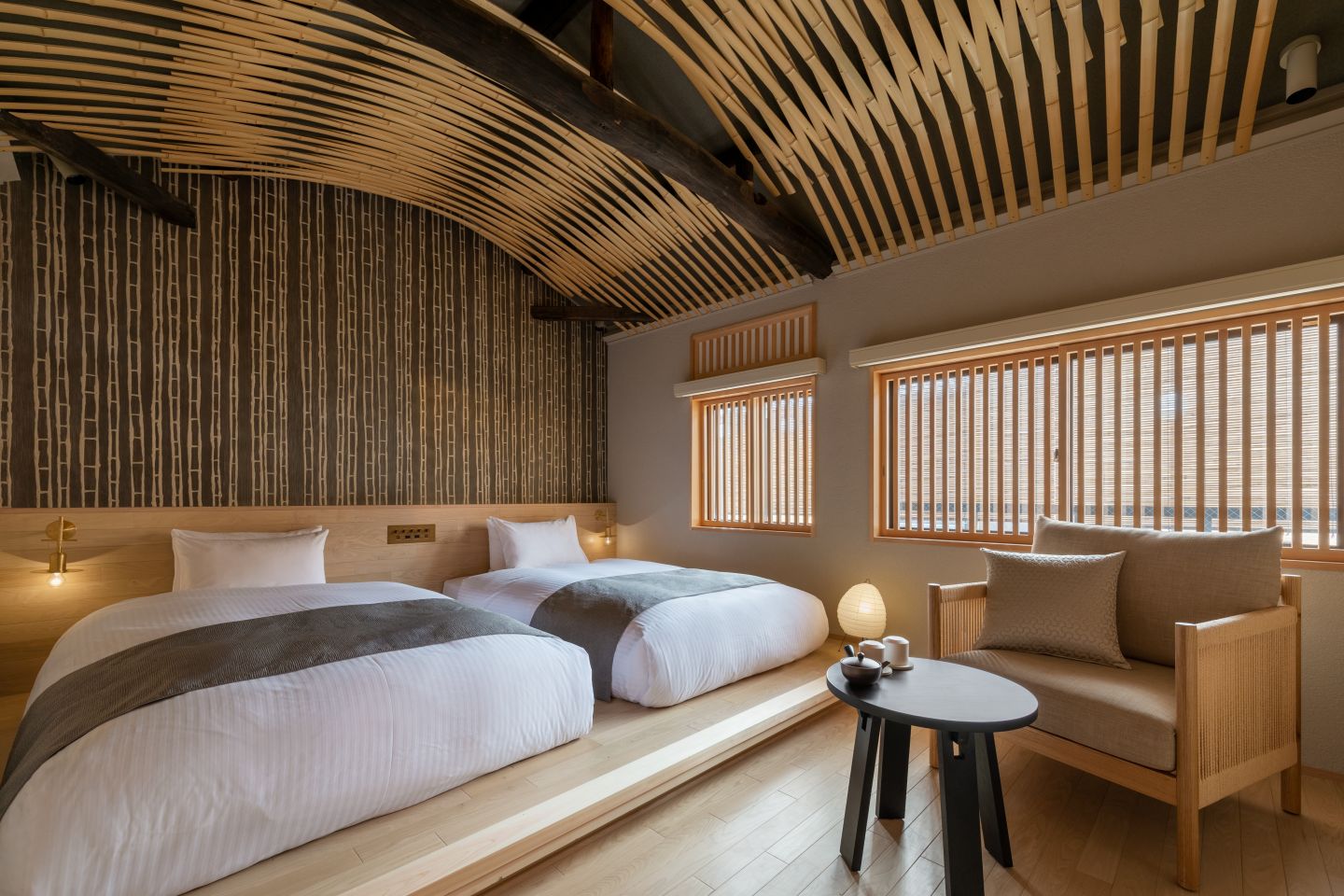 Each of the twenty-three-luxury ryokan style accommodation feature the creature comforts demanded by today's traveler. The two-story unit features a traditional tatami floored living space with a private open-air bath and bedroom and lovely Japanese décor and contemporary interior design.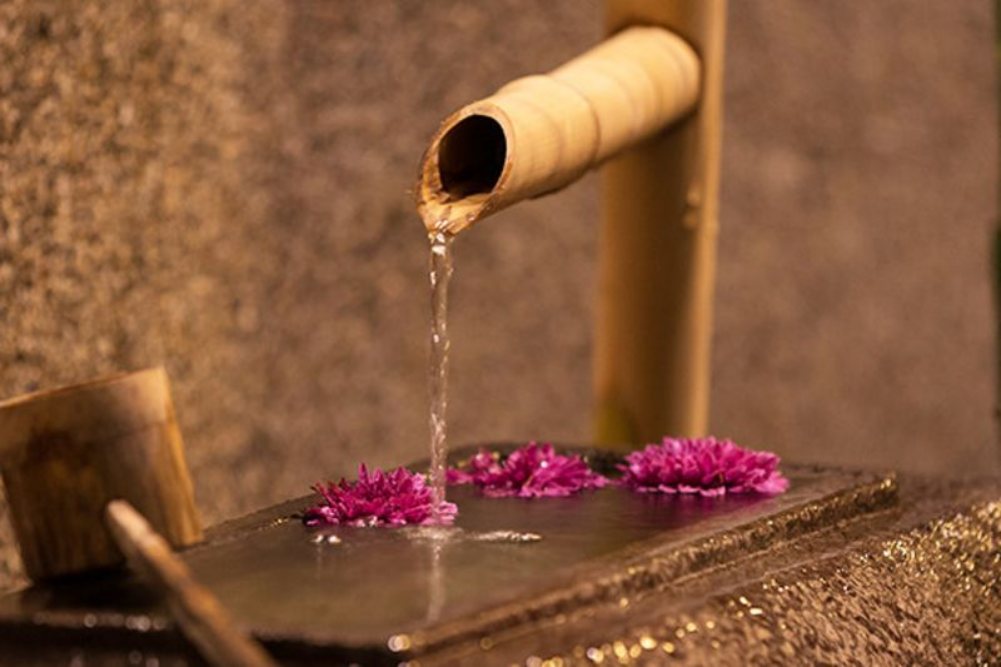 Kyoto is without question, Japan's most beguiling city with a palpable gravitas emanating from thousands of years of culture and tradition.  Kyoto has an endless array of places to stay for the well-heeled traveler. But none will give the authentic experiences and cultural immersion such as a stay in a luxury accommodation as you will find with Nazuna and their ryokans and private villas.