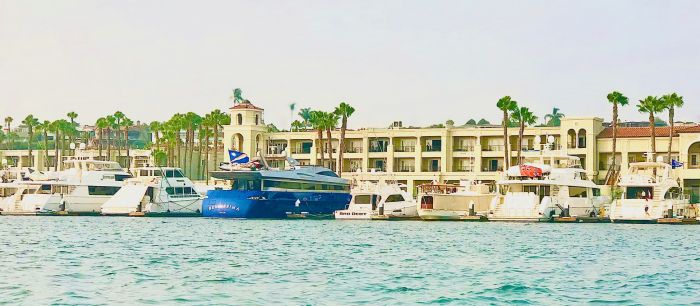 Photo by Jill Weinlein
The 11 million dollar luxury blue and silver Bellissima yacht is docked right in front of the 159-room waterfront Balboa Bay Resort. Known as one of Newport Beach's Top 10 most striking private cruise ships, it's tied up to one of the most upscale properties and marinas in Orange County, California.
Balboa Bay Resort offers an Olympic-size swimming pool and elegant guest rooms and luxury style suites. All offer private balconies with a courtyard, swimming pool or exciting marina and bay views.
The landmark resort is attached to the Balboa Bay Club, opened in 1948 as a private yacht club with a 130-slip marina, private beach, waterfront pools, private restaurant, a spa and a fitness center.  With almost 2,000 members, it's a social haven for area residents, families, and friends to enjoy amenities at the Newport Beach Harbor.
The club has a storied past, and inside the resort there is a wall of framed photos of the celebrities that have enjoyed the amenities, including John Wayne, Ronald Reagan, George Bush and Jerry Seinfeld.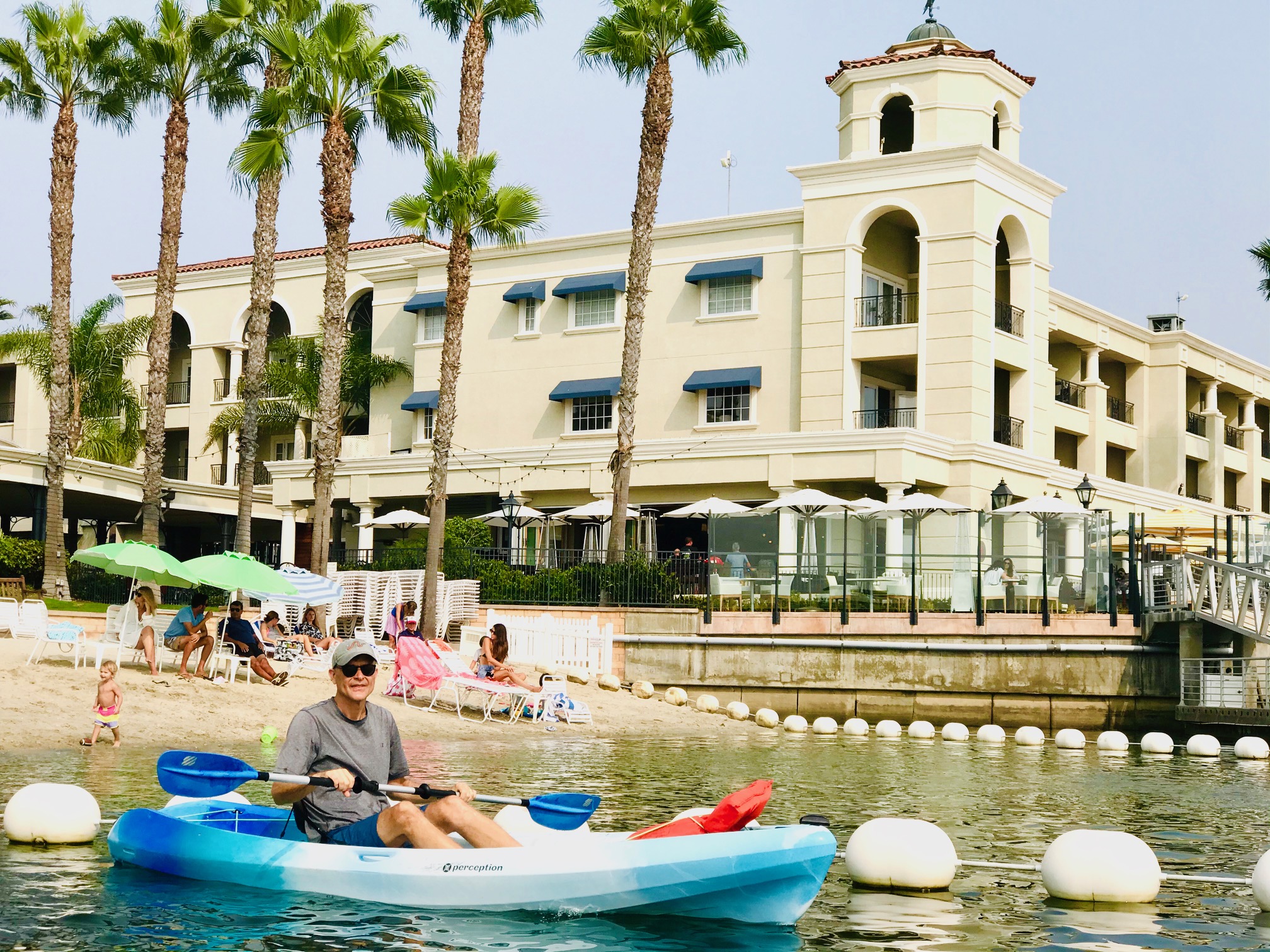 Photo by Jill Weinlein
Since 2017, non-members and leisure travelers can enjoy some of the club's amenities. They can rent a Duffy boat to gaze at the multimillion-dollar homes on Lido Island, cruise the Balboa Peninsula, and historic Balboa Island. There are paddleboards and kayaks for those seeking some exercise along the largest boat-filled harbor in the West Coast. Bicycles are available by the hour to peddle over to the Balboa Fun Zone, an old school amusement park with a Ferris Wheel offering ocean views.
Newport Beach is also known as one of the most popular surfing destinations in Southern California.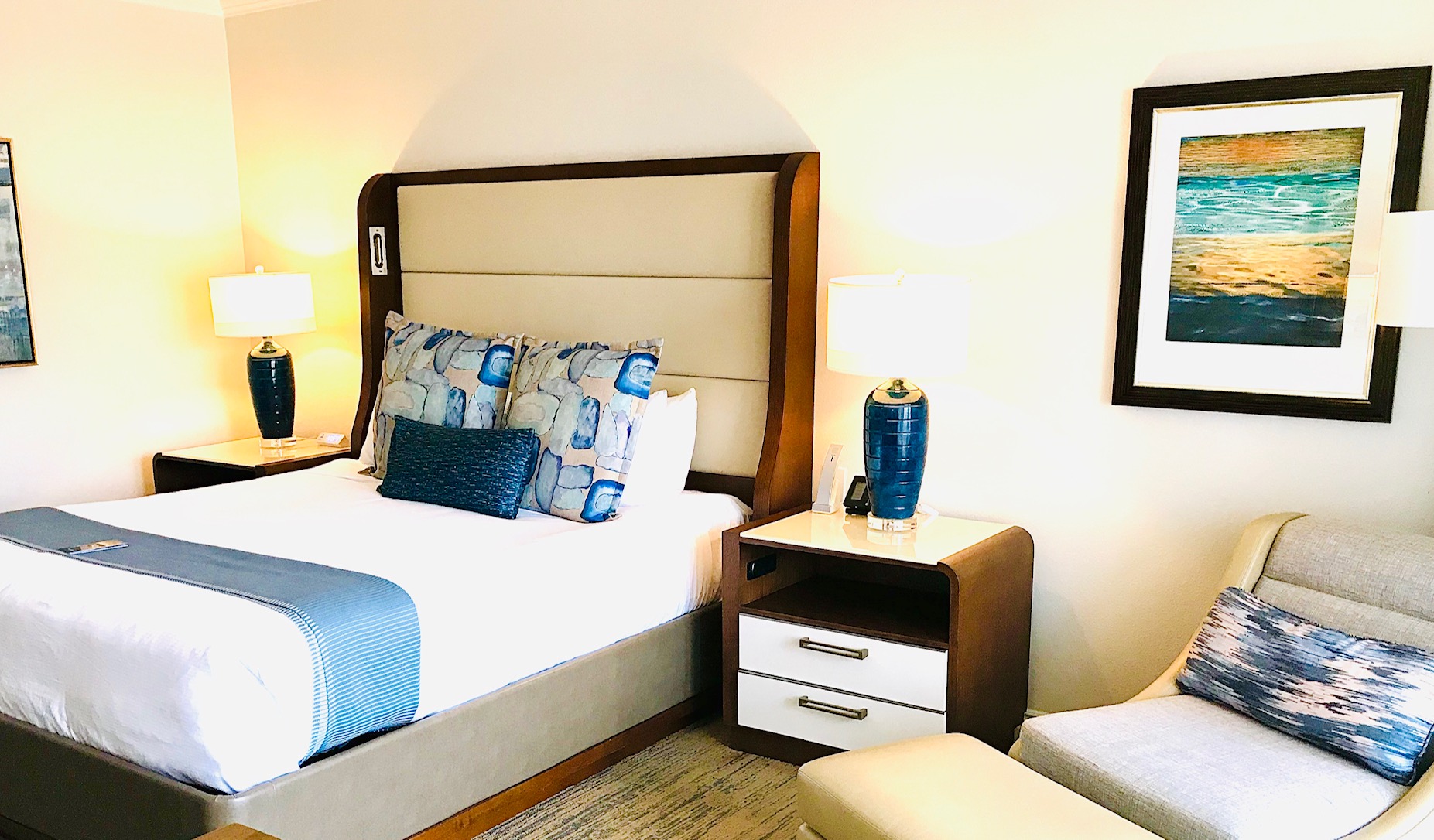 Photo by Jill Weinlein
There are three types of guestrooms that have been enhanced with varying shades of blue to match the environment. The upholstered headboard bed offers a pillow-top mattress, and luxury linens by Frette. Inside the refrigerator is a complimentary bottle of Chardonnay and two bottles of water to keep guests hydrated.
The 500 sq. ft., courtyard view rooms overlook the sparkling swimming pool. The luxury suites range from 1,100 to 3,000 square feet of exciting Newport Bay views with a private bedroom with a king bed, comfortable living room, and five-fixture marble bathroom, and a separate half bath. The Presidential Suite offers a dining room for twelve people and three private balconies.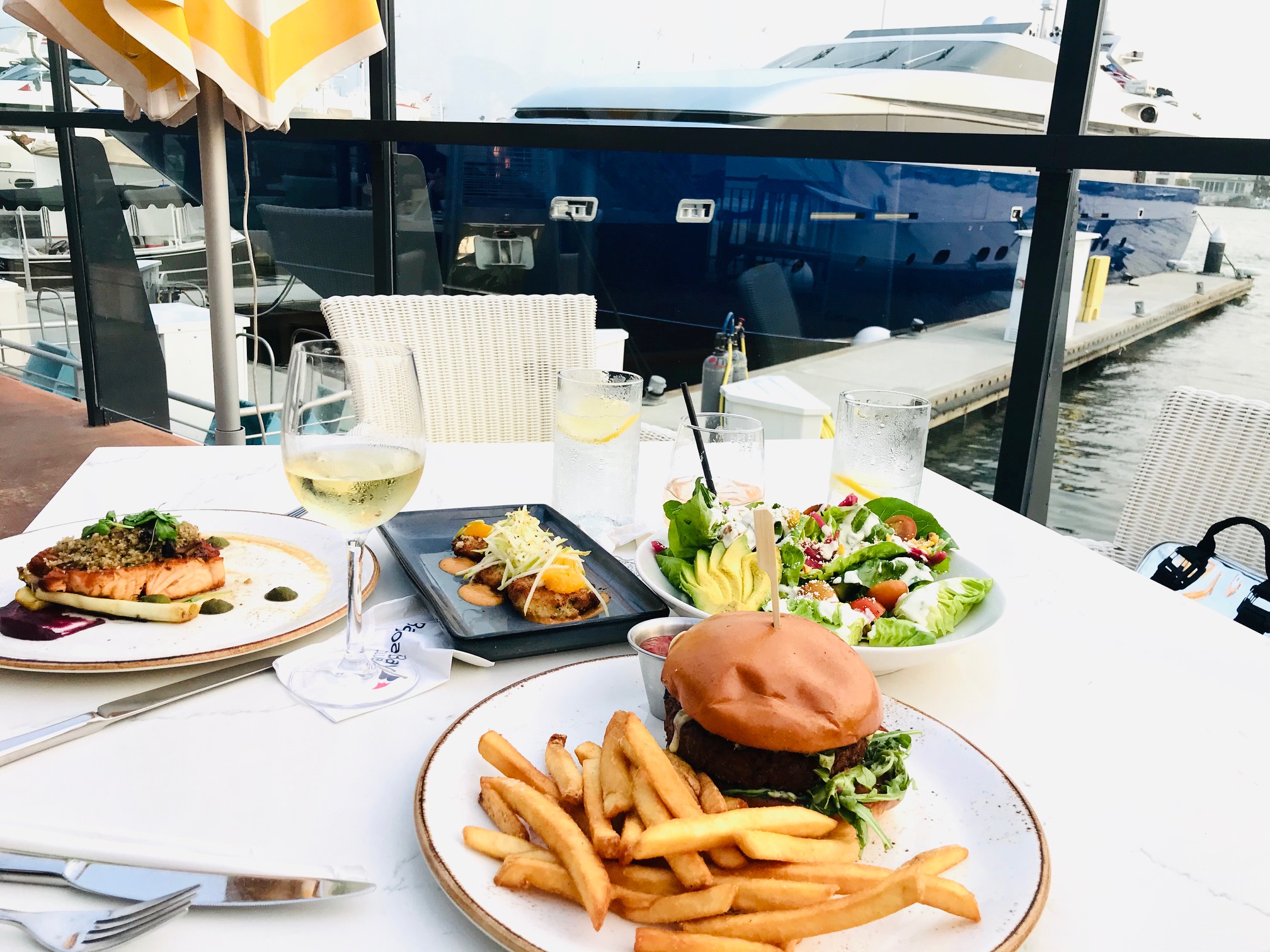 Photo by Jill Weinlein
The onsite dining includes the waterfront A&O Kitchen+Bar (the initials for Anchors and Oceans) offers outdoor seating, blazing fire pits and heaters for chilly nights. While looking out to the eye-candy yachts, a local DJ spins current hits to elevate the ambiance.
We started with crispy crab cakes, a Little Gem salad, 'faux' burger made with Beyond meat patty, house aioli, arugula, pickles, and melted white cheddar on a brioche bun, that came with crispy fries and housemade ketchup. The Scottish salmon was topped with a wild mushroom crust and served with charred leeks and red cabbage. For dessert, we had a Pina Colada panna cotta with dried pineapple and crunchy chocolate. 
For casual and picnic dining, Blend off the lobby offers freshly brewed coffee drinks, pastries, paninis, gelato, and grab 'n go sandwiches, To-go orders can be placed for a picnic on a Duffy boat, perfect for cruising around the bay.
The fine-dining Waterline Newport Beach is currently closed due and will hopefully open soon.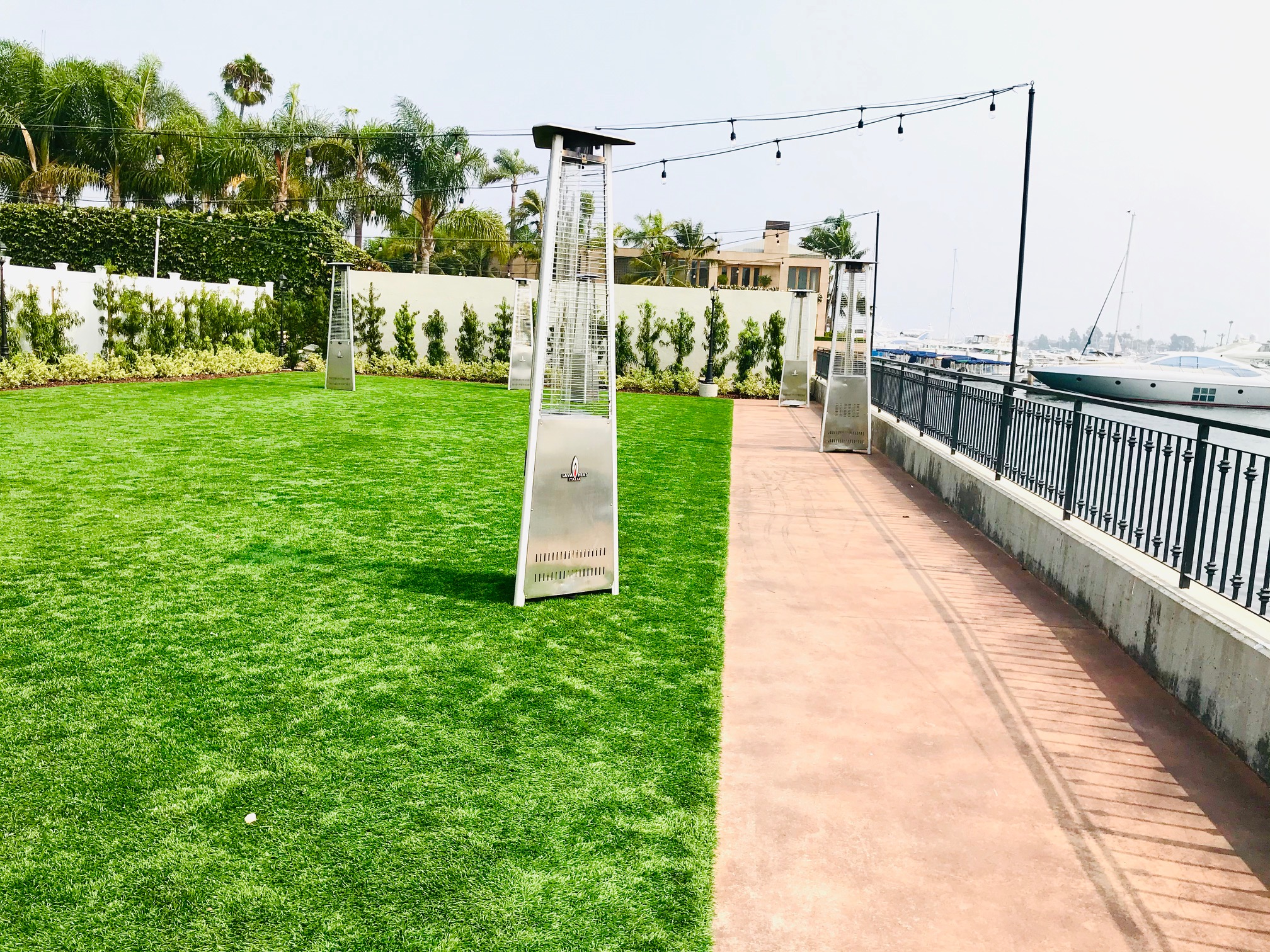 Photo by Jill Weinlein
Known as one of the prettiest yacht and bay backdrops for weddings, the resort was one of the most reserved weddings and charity benefit destinations, with its remodeled ballrooms and interior event spaces. When Covid-19 closed down the interior ballrooms, the resort set up a new outdoor wedding lawn along the waterfront with party lights, heaters and grass-like astroturf. To kick off the wedding season in 2020, the resort gifted two couples their dream wedding, after the couple's original plans were uprooted by the pandemic.
Couples were selected based on the resort's hosted giveaway contest through Instagram. Each couple received accommodations, and catering, amounting to $10,000. Balboa Bay Resort partnered with local vendors to help execute the romantic ceremony. Rebecca Calagna Events provided wedding planning services with floral and decorations, Heather Kennedy at Dolled Up OC provided full hair and make-up, and Jim Kennedy Photography took keepsake photos.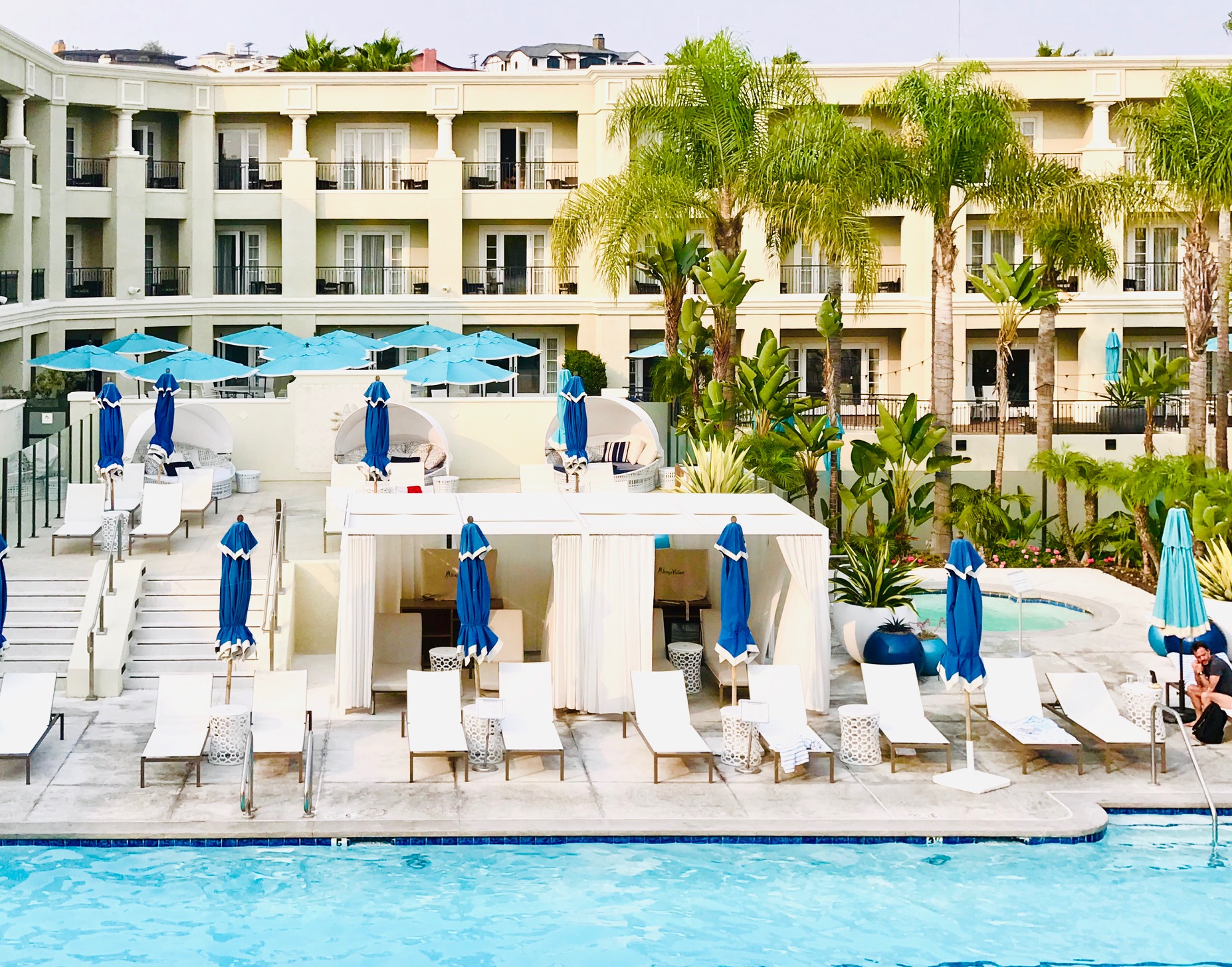 Photo by Jill Weinlein
For those who like to bring their dog on vacation, the resort welcomes one dog, a maximum of 35 pounds per room. The cost is a one-time, non-refundable fee of $150, however the fee is waived for service animals. Your pampered pooch will receive an in-room dog bed, set of bowls, a goodie bag full of canine fare, and toys.
Those who live in Washington, Oregon, Arizona, Nevada and Utah can come spend this Fall soaking in the pool, taking a Duffy boat to explore the bay and getaway from the smoky skies from the wildfires. The Good Neighbor promotion includes 15% off luxurious accommodations and complimentary parking for one vehicle. Guests must show their ID upon arrival must show ID upon arrival.
Balboa Bay Resort is currently offering a flexible cancellation policy. Reservations for stays through December 30, 2020 can be canceled up to 24-hours in advance (with the exception of December 16th – 20th).