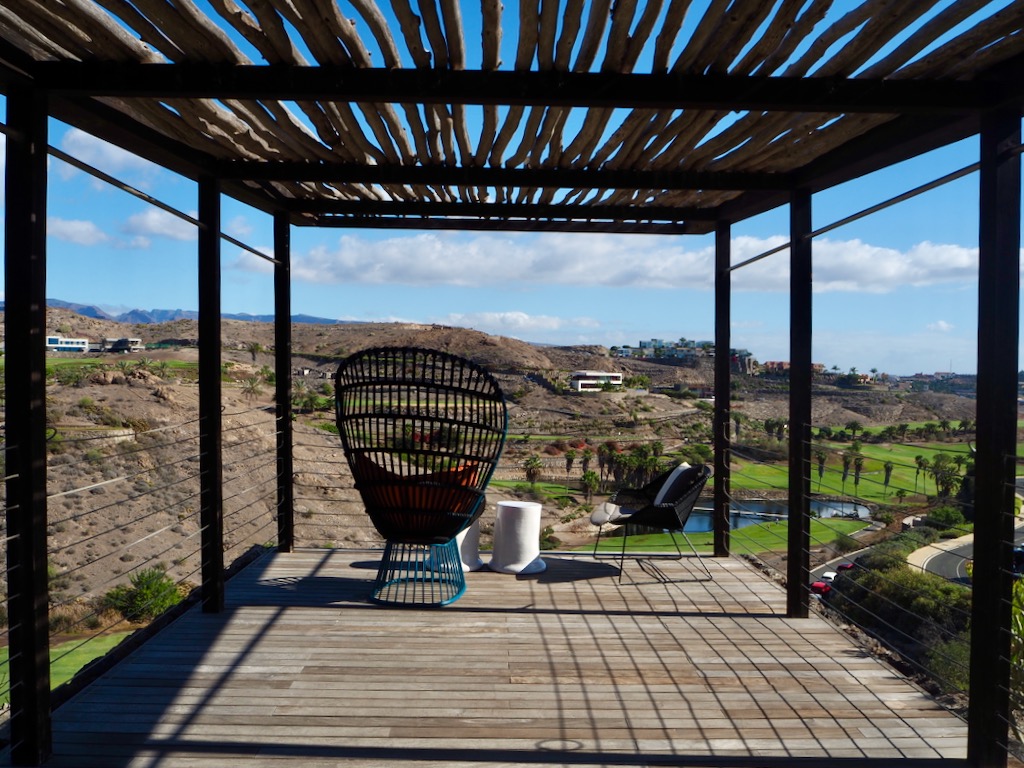 Columbia Hillen
Full credit to general manager, Manolo Rivero and his senior management team at Salobre Hotel Resort & Serenity in Gran Canaria. 
Thinking long and hard about the definition of luxury, and deciding it wasn't simply marble hallways and gleaming chrome but memorable experiences for guests, they decided 'personal commitment' was the key ingredient, so they went about creating it.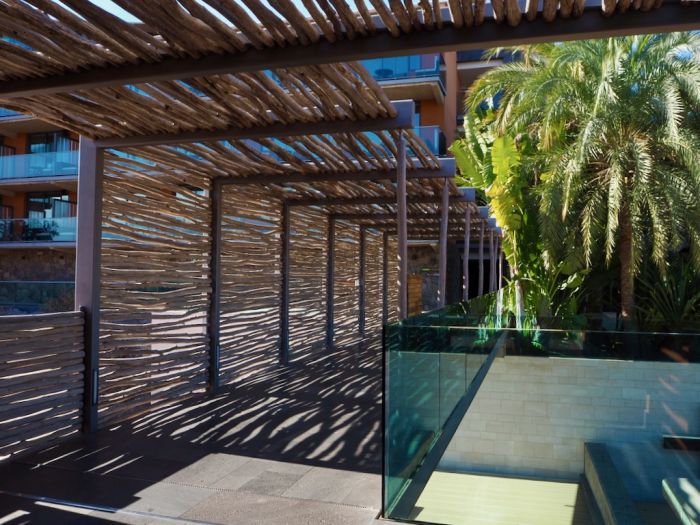 Columbia Hillen
In doing so, they pursued many strategies including visiting other resorts with reputations for first-class personal service and using their own intuition and the skills of professional psychologists to make sure they hired the right people.
The result, from my own experiences after several days at this five-star resort: friendly, mainly local, staff ready and willing to share their knowledge, not only about the resort but also about the island they are so obviously proud of. Such people included good-humored Emma Rodriguez on the front desk whose laughter had a melodic quality to it that was delightful to listen to; Tanya in the 'Sidecar' restaurant – helpful, informative, and very well-versed in wine selections; and spa therapists, Tanya and Clara, who provided heavenly anti-stress massage treatments with aloe vera for my companion and I.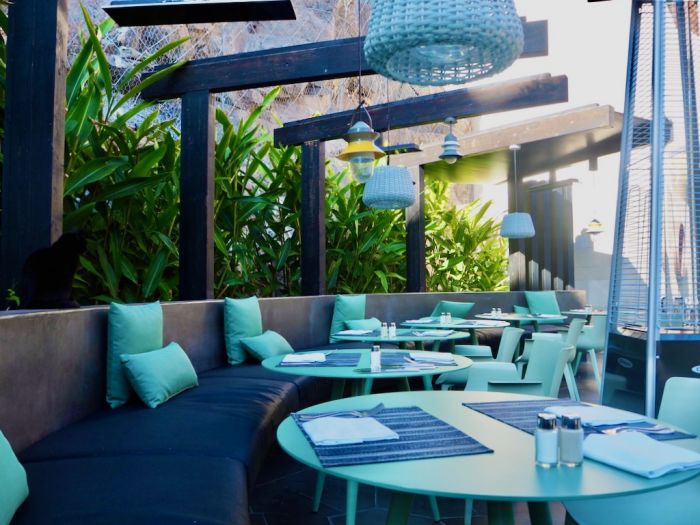 Columbia Hillen
What about food, amenities and accommodation?
Be prepared to enjoy a sumptuous breakfast at Sens Kitchen Patio Garden. The quality of a buffet is often measured in the number of 'live stations' where food and drink specialties are made-to-order. Salobre Hotel Resort & Serenity has three, where a wide variety of omelets, pancakes and fresh juices are created, my favorite among the latter being a combination of ginger, papaya, melon, kiwi and pineapple.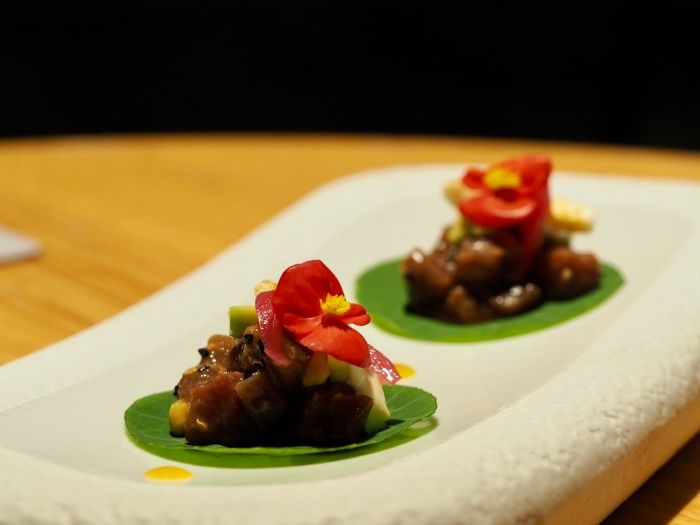 Columbia Hillen
That's the morning. What about the evening?
We opted for a tantalizing 8-course tasting evening, akin to a tapas menu, at Sidecar restaurant which opened three years ago. Two of the dishes – red tuna tartar with capuchina leaf, avocado, mango, minced onion and wasabi mayo, and matured T-bone carpaccio with cristal bread, pepper and goat cheese – reflected the menu's diversity. Not forgetting dessert, how does creamy chocolate with extra virgin oil and salt flakes sound? 
If you're very hungry, there's always the a la carte choices, with dishes ranging from octopus to steak. Your enjoyment, like ours, should continue in the bar across the hallway called simply 'S,' where live music begins after 9 pm.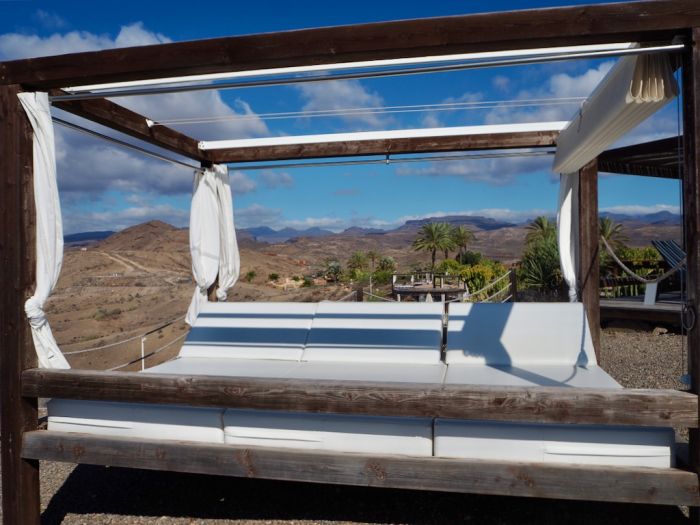 Columbia Hillen
As for the hotel's amenities, they're plentiful. 
Warm weather is the main attraction of Gran Canaria, particularly in this southern region, the resort has created outdoor swimming pools on multiple levels. My favorite was the infinity-style Sunset pool on the 11th floor, overlooking the surrounding hills and desert, the Mediterranean Sea and the town of Maspalomas.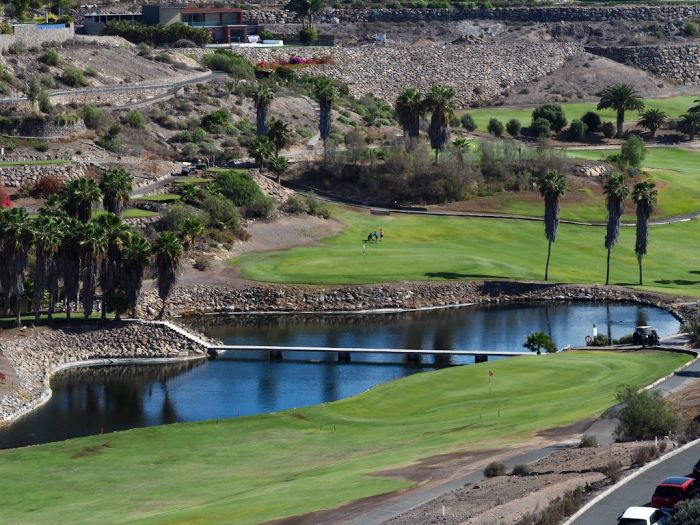 Columbia Hillen
Long and wide, I enjoyed not only a healthy bout of exercise but leisurely conversations with people from many nationalities in chaise longues beside me. You can also choose to relax in greater privacy on a Balinese bed, with cocktails and fusion cuisine from the Sunset Bar.
The resort also offers not one but two, palm-lined 18-hole, 4-5,000 square meter golf courses, both built within the last 20 years. Golfers take note: try the 'Grand Canyon.' Failure to clear a 250-meter chasm and you're back to the tee for a re-think, shot dropped. Success means immense satisfaction. Alas, I fit firmly into the former category.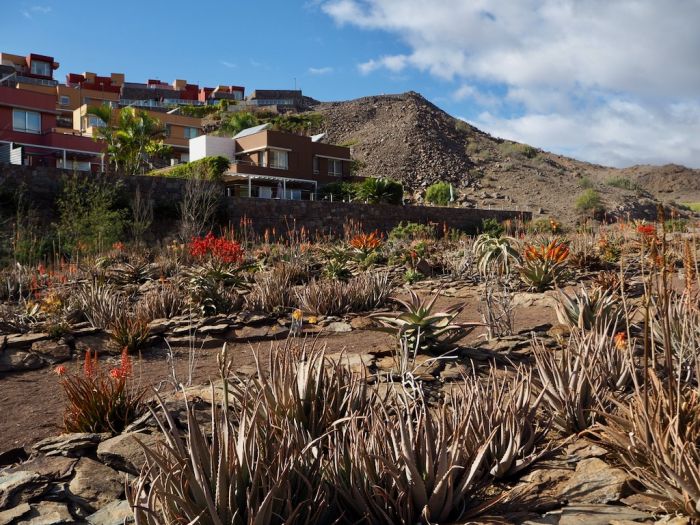 Columbia Hillen
Avid cyclists, of which there are quite a few on the island, will also like this resort as it offers special facilities including a video-monitored garage for bicycles, washing area, a workshop with tools and inflator pump and bicycle rental facilities.
No epicurean worth his or her salt can ignore the 'Be Aloe' spa.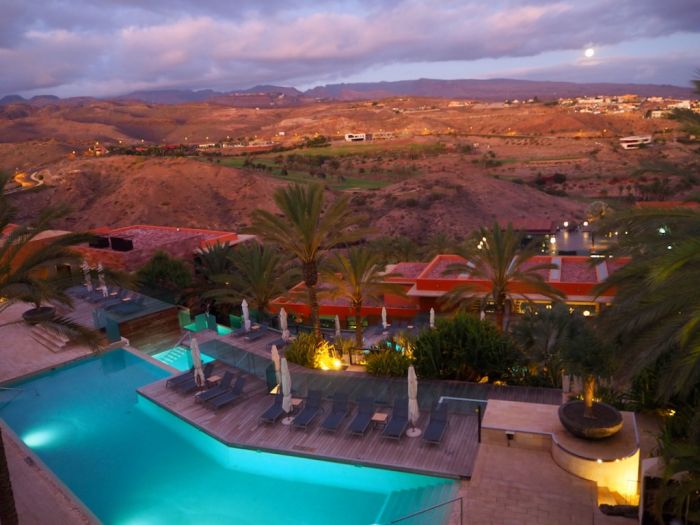 Columbia Hillen
Spacious and luxuriant, it is the perfect way to relieve tiredness after a long day on the course or sight-seeing. Indulge in what is termed the 'indoor circuit' – Finnish sauna, hammam and a special relaxing oxygen room whose benefits, aside from aiding breathing problems, is supporting the body's ability to produce collagen, a key ingredient supporting connective tissue, muscle, and skin, as well as joint and bone health.
The spa is also the setting for meditation sessions, as well as holistic and sports activities such as gym, running, basketball, cycling, eco fitness, football and yoga. The resort also offers outdoor running and walking routes with various levels of difficulty.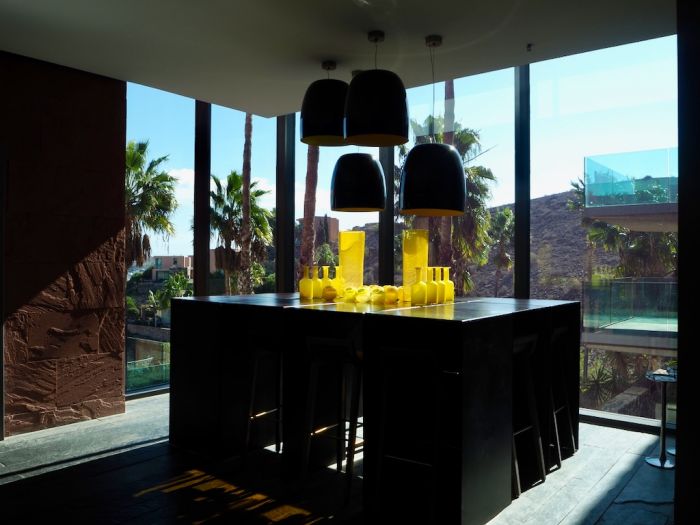 Columbia Hillen
To give an idea of the immense choice of treatments in the spa, there are six separate facials, including hyaluronic acid; 10 classic massages, including lymphatic drainage and foot reflexology; five sports therapies, including acupuncture; plus 13 other treatments termed 'rituals' and 'exotic, including Indian ayurvedic massage and Japanese shiatsu and Thai pindas. Not to mention a wide range of hair and beauty treatments, from manicure and pedicures to waxing, permanent eyelashes and hairdressing.
Guests can also enjoy a 'spa deluxe' option which includes a massage for two with a bottle of cava, finger food dinner with an exclusive circuit, and a 'spa night' that comprises a bottle of cava, dessert and exclusive circuit.
Columbia Hillen
And finally, the hotel's accommodation. 
Our room, 1029, was spacious, with twin sinks; separate bathtub and shower, the latter a delightful walk-in variety with two choices of spray, handheld and overhead; a large TV and an extra adjustable bedside light (being 64, and an avid reader, I really appreciate when hotels provide this). We spent part of our mornings and evenings leisurely on two cushioned wicker armchairs and a chaise longue on our large cozy terrace overlooking two of the resort's outdoor swimming pools and its golf courses.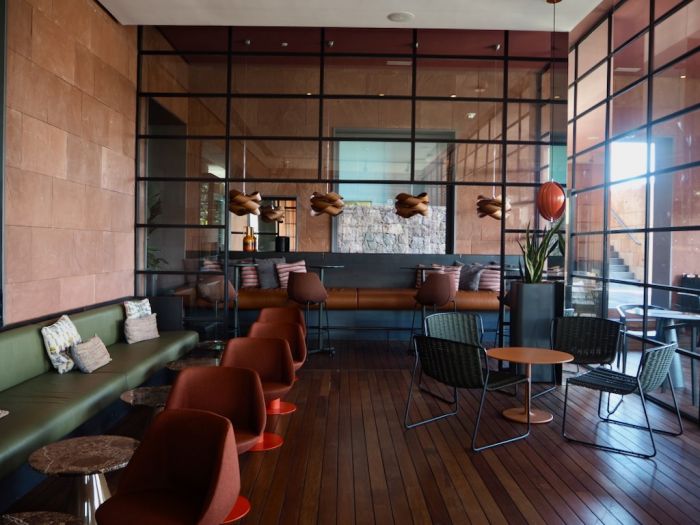 Columbia Hillen
Salobre Hotel Resort & Serenity not only appeals to tourists, but it also hosts business and social events and conferences, with 1,600 square meters of venue space and also a 716-square meter panoramic terrace. Its 'Cristalarium' has rooms for up to 700 people, three meeting rooms for 30 people and a terrace for up to 300 people.
Salobre Hotel Resort & Serenity, owned by the construction company, Satocan, which also owns several other hotels on the island and in the region, including Marina Suites, Marina Bay View and Gold By Marina, is also close to some interesting places.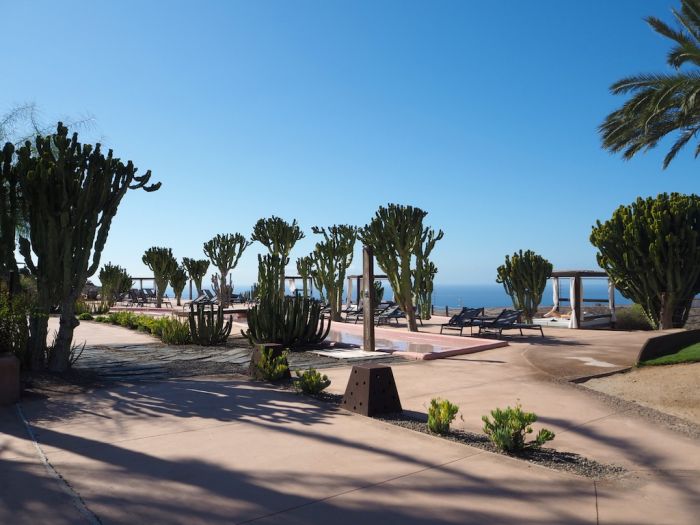 Columbia Hillen
The local harbor town of Arguineguin with quaint restaurants overlooking the bay is a mere 20-minute drive away; the shimmering Natural Dune Reserve near Maspalomas is 15-minutes away; while the historic town of Aguimes is worth visiting to dine in its unique cave restaurants.
For a 5-star resort in a scenic island location basking in sunny weather that offers activities aplenty and is also convenient to interesting sights, Salobre Hotel Resort & Serenity is hard to beat.